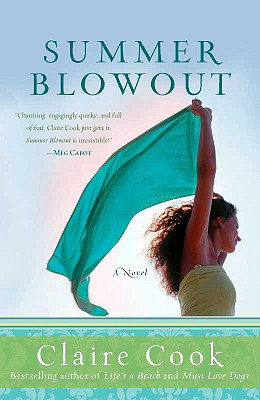 Summer Blowout (Paperback)
Hyperion Books, 9781401340957, 263pp.
Publication Date: April 1, 2009
* Individual store prices may vary.
or
Not Currently Available for Direct Purchase
Description
A good makeup artist never panics. Bella Shaughnessy knows this. She's the resident makeup maven in a family of Boston Irish hair salon owners; she has an artful solution to almost every problem. But Bella feels bruised beyond the reach of even the best concealer when her half-sister runs off with her husband. What could she come up with to cover a hurt like that? Plenty, it turns out. She conceives an invigorating new business idea, and soon meets a cute entrepreneur who can help out. Despite their bickering, they can't seem to stay away from success--or from each other.
About the Author
Claire Cook is the bestselling author of the novels Life's a Beach, Must Love Dogs, Ready to Fall, and Multiple Choice. A teacher of physical fitness and creative writing, she has had previous stints as a copywriter, radio continuity director, garden designer, and dance and aerobics choreographer. She lives in Scituate, Massachusetts--often called the Irish Riviera--with her husband and two children. Visit her website at: www.clairecook.com
Praise For Summer Blowout…
"Summer Blowout is as intoxicating as a seat at the top of the Ferris wheel. Reading Claire Cook might be the most fun you have all summer."—Elin Hilderbrand, author of Barefoot

"Charming, engagingly quirky, and full of fun, Claire Cook just gets it. Summer Blowout is irresistible!"—Meg Cabot, author of The Princess Diaries series and Queen of Babble Gets Hitched

"A laugh-filled look at love... Nobody does the easy-breezy beach book with a lighter hand than Claire Cook...In Summer Blowout...you soon find yourself on another of Cook's delightful tours of the funny side of big family life."—Carole Goldberg, The Hartford Courant

"As someone who struggles with humid, willful, occasionally explosive summer hair, I only wish every Summer Blowout were so completely satisfying. Claire Cook is at her irresistible, charming, dishy, can't put it down best."—Amy Cohen, author of The Late Bloomer's Revolution

"Laugh out loud."—Good Housekeeping

"The exuberant and charming Claire Cook (ask anyone who saw her at this spring's Tennessee Williams/New Orleans Literary Festival) is one of the sassiest and funniest creators of contemporary women's fiction... Summer Blowout, is every bit as much fun as Must Love Dogs and Life's a Beach."—The Times-Picayune

"Summer Blowout is primed, like Cook's previous novel Must Love Dogs... to become a big-screen romantic comedy."—Booklist

"Lipstick rules in this sunny romance tucked inside a Boston family's chain of beauty salons. Recently divorced makeup artist Bella Shaughnessy is going down swinging as she reacts to newcomer Sean Ryan and the gnawing possibility that developers are sabotaging her family's original shop. Cook's (Life's a Beach ) ability to make families' foibles ring true-and funny-ensures a delightful read. Snap this one up and enjoy the makeup advice."—Library Journal

"Claire Cook is back again with what surely will be this summer's biggest hit. Her fifth novel delivers not only a hilarious read, but also divulges tricks of the trade make-up secrets that every girl will love! Without a doubt, SUMMER BLOWOUT is the perfect styling tool needed to give you that coveted summertime look."—Fresh Fiction

"You won't have to don your sunglasses for this sunny delight by the author of Must Love Dogs. Makeup artist Bella Shaughnessy has a thing for lipstick-with names like Catfight, Damaged and Revive-a family that gives new meaning to the expression blended (thanks to a half-sister who's dating Bella's ex-husband) and a ban on men (see half-sister). Which is too bad, because she's just met Sean Ryan, an entrepreneur with sparkling eyes and a proposal, business that is-or is it?-for Bella. As refreshing as an icy drink on a sultry day."—Family Circle

"Cook has a gift for telling an entertaining and funny story that is light enough for a beach read, yet weighty enough to get under your skin and into your heart. Her characters are quirky and inconsistent, good-hearted folks who make mistakes and have regrets, but none of the damage is lasting. Love and forgiveness beat out hate and revenge."—The Patriot Ledger

"Claire Cook is one of our favorite authors. We love her fun, goofy, big-hearted reads filled with comfortably, familiarly, mildly-flawed characters that most often pass for family. Summer Blowout is Claire Cook's best novel yet. From My Chihuahua Bites lipstick to Italian/Irish family 'staff meetings' to a dyed-and-highlighted incognito pooch, Summer Blowout is poised to blow OFF the shelves -- with the paperback Life's a Beach sailing right behind it!!"—Jill Miner, Saturn Booksellers

"Claire Cook has done it again - Summer Blowout is another great summer beach read that will make you laugh out loud darn near every page...There are many giggles and makeup tips in this breezy summer read - it's too fun to miss (especially the 'combover intervention' - you just HAVE to read it)."—Jackie Blem, Tattered Cover Bookstore

"Summer Blowout was a laugh-out-loud-in-public good time. Bella felt like a best friend, and she was just hilarious. A great all-around read, and it really makes me wish it was ALREADY summer."—Jenny Sweedler, Innisfree Bookshop

"Book an appointment NOW for summer's hot read: SUMMER BLOWOUT by Claire Cook. Bad hair day? Bella Shaughnessey's repartee is the quick fix! Ask your bookseller to pencil you in for the laughs. Walk-ins welcome!"-—Peg Patten, Front Street Book Shop

"Summer Blowout is vintage Claire Cook -- this funny and clever novel about a makeup artist beginning a new life is sure to be in beach bags this summer. Cook has a knack for turning the mundane into the unique, and her characters are eclectic and original."—Kathleen McGonagle, Buttonwood Books & Toys, Cohasset, MA

"As intoxicating as a seat at the top of the Ferris wheel... might be the most fun you have all summer."—Elin Hilderbrand, author of Barefoot and A Summer Affair
Advertisement