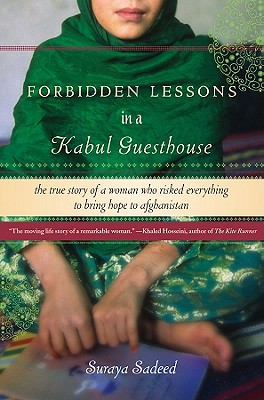 Forbidden Lessons in a Kabul Guesthouse (Hardcover)
The True Story of a Woman Who Risked Everything to Bring Hope to Afghanistan
Hyperion Books, 9781401341312, 280pp.
Publication Date: June 21, 2011
* Individual store prices may vary.
Description
Includes a Reading Group Guide and Author Q&A From her first humanitarian visit to Afghanistan in 1994, Suraya Sadeed has been personally delivering relief and hope to Afghan orphans and refugees, to women and girls in inhuman situations deemed too dangerous for other aid workers or for journalists. Her memoir of these missions, Forbidden Lessons in a Kabul Guesthouse, is as unconventional as the woman who has lived it. This is no humanitarian missive; it is an adventure story with heart. To help the Afghan people, Suraya has flown in a helicopter piloted by a man who was stoned beyond reason. She has traveled through mountain passes on horseback alongside mules, teenage militiamen, and Afghan leaders. She has stared defiantly into the eyes of members of the Taliban and of the Mujahideen who were determined to slow or stop her. She has hidden and carried $100,000 in aid, strapped to her stomach, into ruined villages. She has built clinics. She has created secret schools for Afghan girls. She has dedicated the second half of her life to the education and welfare of Afghan women and children, founding the organization Help the Afghan Children (HTAC) to fund her efforts. Suraya was born the daughter of the governor of Kabul amid grand walls, beautiful gardens, and peace. In the aftermath of the Soviet invasion of Afghanistan in 1979, she fled to the United States with her husband, their young daughter, their I-94 papers, and little else. In America, she became the workaholic owner of a prosperous real estate company, enjoying all the worldly comforts anyone could want, but when a personal tragedy struck in the early 1990s, Suraya seriously questioned how she was living and soon sharply changed the direction of her life. Now, in Forbidden Lessons in a Kabul Guesthouse, she shares her story of passion, courage, and love, painting a complex portrait of Afghanistan, its people, and its foreign visitors that defies every stereotype and invites us all to contribute to the lives of others and to hope.
About the Author
Suraya Sadeed was born and raised in Kabul, Afghanistan and immigrated to the United States after the Soviet invasion of Afghanistan. She founded Help the Afghan Children in 1993 as a response to the humanitarian crisis she witnessed on a trip to her home country during the height of the Afghan Civil War. Since then, Suraya's work has been recognized and honored at the highest levels of government in both Afghanistan and the United States. She has appeared on such programs as the Oprah Winfrey Show and NBC's Weekend Today Show, and her story has been written about in Readers Digest and the Los Angeles Times Magazine as well as a film documentary Inshallah, Diary of an Afghan Woman, produced for the Oxygen Channel. In March of 2006, Suraya's work was recognized by President George W. Bush and First Lady Laura Bush at the White House for her work in Afghanistan.
Praise For Forbidden Lessons in a Kabul Guesthouse: The True Story of a Woman Who Risked Everything to Bring Hope to Afghanistan…
"A moving message."
-Kirkus

"[A]n absorbing memoir."
-Booklist

"[A] well plotted, fluid narrative."
-Publishers Weekly

"For years, Suraya Sadeed has worked tirelessly to help the people of her war-scarred homeland. This terrific memoir is the story of her struggles, her sacrifices, and her hopes. It is the moving life story of a remarkable woman who has overcome personal tragedy and has made it her single-minded mission to bring hope, relief, and a measure of happiness to the brutalized women and children of Afghanistan."
-Khaled Hosseini, author of The Kite Runner

"I read this book in one gulp. I couldn't put it down. Suraya Sadeed is an amazing woman who has done what few others have dared, or cared enough, to do. Her life is inspiring, and so is her life story--this riveting, clear-eyed book."
-Mir Tamim Ansary, author of West of Kabul, East of New York

"Wisecracking beneath her burka, [Sadeed] talks her way into horrific refugee camps, creates a clinic for women (they must skulk in by a secret door) and illegally starts a girls' school in a windowless basement. This former businesswoman turned full-time activist lives what she fervently believes: that education is more powerful than 'the bullet and the bomb.'"
-More

"An adventure story with heart that tells Sadeed's (the founder of the charity Help the Afghan Children) inspiring fight to bring aid, education, and peace training to Afghan citizens."
-East Bay Express
or
Not Currently Available for Direct Purchase