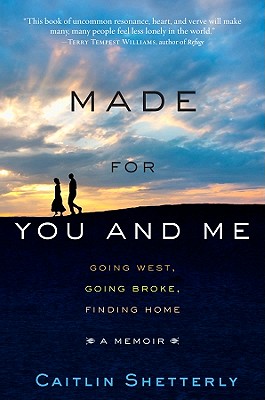 Made for You and Me (Hardcover)
Going West, Going Broke, Finding Home
Hachette Books, 9781401341466, 256pp.
Publication Date: March 8, 2011
* Individual store prices may vary.
Description
Newlywed Caitlin Shetterly and her husband, Dan Davis, two hardworking freelancers, began their lives together in 2008 by pursuing a lifelong, shared dream of leaving Maine and going West. At first, California was the land of plenty. Quickly, though, the recession landed, and a surprise pregnancy that was also surprisingly rough made Caitlin too sick to work. By December, every job Dan had lined up had been canceled, and though he pounded the pavement, from shop to shop and from bar to bar, he could not find any work at all. By March 2009, every cent of the couple's savings had been spent.

So, a year after they'd set out with big plans, Caitlin and Dan packed up again, this time with a baby on board, to make their way home to move in with Caitlin's mother. As they drove, Caitlin blogged about their situation and created audio diaries for NPR's Weekend Edition--and received an astounding response. From all across the country, listeners offered help, opening their hearts and their homes. And when the young family arrived back in rural Maine and squeezed into Caitlin's mother's small saltbox house, Caitlin learned that the bonds of family run deeper than any tug to roam, and that, with love, she and Dan could hold their dreams in sight, wherever they were.

Made for You and Me captures the irrepressible spirit and quiet perseverance of one small family--and offers to share that strength with any reader willing to make the journey.
About the Author
Caitlin Shetterly is a freelance writer, contributor to National Public Radio, actor and the Founder and Artistic Director of the Winter Harbor Theatre Company. She makes her life in Portland, Maine with her husband, the photographer Dan Davis, their son and their dog Hopper.
Praise For Made for You and Me: Going West, Going Broke, Finding Home…
"Caitlin Shetterly's Made for You and Me is a beautiful, moving, haunting, and funny memoir about what really counts. It moves deftly and lightly between the west coast and the east coast, and frustration and hope, with pointed, buoyant lines that make you smile as they pierce your heart. Made for You and Me is a memoir about great people (with great dogs, too; funny how that works out) and their great new son going through a rough patch with grace and wisdom. Caitlin and her family will realize many dreams. And in the meantime, rather than despair, they have given us a sublime gift of a book."—Scott Simon, host of NPR's Weekend Edition Saturday and the author of Baby, We Were Meant for Each Other

"There's a story of this country that doesn't get told a lot. Or told well. Of what it's like to not make it. Of having to say to yourself, and to your spouse and your child 'Listen, this isn't it. We need to try something else. We need to start over...from the very beginning.' Caitlin Shetterly's Made for You and Me is that story. Resonant and richly detailed, it takes you deep into the personal heart of the beginning of the financial crisis and the recession that followed. Then, somehow, via Venice, California, backwoods Maine and 3000 miles in between brings you out the other end."—Kai Ryssdal, host of NPR's Marketplace
or
Not Currently Available for Direct Purchase