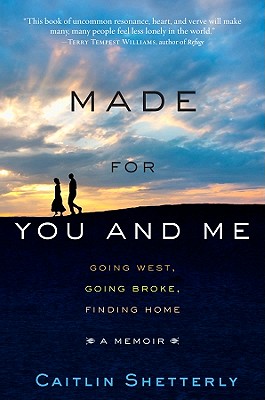 Made for You and Me
Going West, Going Broke, Finding Home
Hardcover

* Individual store prices may vary.
Description
Nothing turns a baby's head more quickly than the sight or sound of an animal. This fascination is driven by the ancient chemical forces that first drew humans and animals together. It is also the same biology that transformed wolves into dogs and skittish horses into valiant comrades that would carry us into battle.

Made for Each Other is the first book to explain how this chemistry of attraction and attachment flows through -- and between -- all mammals to create the profound emotional bonds humans and animals still feel today.

Drawing on recent discoveries from neuroscience, evolutionary biology, behavioral psychology, archeology, as well as her own investigations, Meg Daley Olmert explains why the brain chemistry humans and animals trigger in each other also has a profound effect on our mental and physical well being.

This lively and original investigation asks what happens when the bond is severed. If thousands of years of caring for animals infused us with a biology that shaped our hearts and minds, do we dare turn our back on it? Daley Olmert makes a compelling and scientific case for what our hearts have always known, that we were, and always will be, made for each other.
Praise For Made for You and Me: Going West, Going Broke, Finding Home…
"Caitlin Shetterly's Made for You and Me is a beautiful, moving, haunting, and funny memoir about what really counts. It moves deftly and lightly between the west coast and the east coast, and frustration and hope, with pointed, buoyant lines that make you smile as they pierce your heart. Made for You and Me is a memoir about great people (with great dogs, too; funny how that works out) and their great new son going through a rough patch with grace and wisdom. Caitlin and her family will realize many dreams. And in the meantime, rather than despair, they have given us a sublime gift of a book."—Scott Simon, host of NPR's Weekend Edition Saturday and the author of Baby, We Were Meant for Each Other

"There's a story of this country that doesn't get told a lot. Or told well. Of what it's like to not make it. Of having to say to yourself, and to your spouse and your child 'Listen, this isn't it. We need to try something else. We need to start over...from the very beginning.' Caitlin Shetterly's Made for You and Me is that story. Resonant and richly detailed, it takes you deep into the personal heart of the beginning of the financial crisis and the recession that followed. Then, somehow, via Venice, California, backwoods Maine and 3000 miles in between brings you out the other end."—Kai Ryssdal, host of NPR's Marketplace
Hachette Books, 9781401341466, 256pp.
Publication Date: March 8, 2011
About the Author
Caitlin Shetterly is a freelance writer, contributor to National Public Radio, actor and the Founder and Artistic Director of the Winter Harbor Theatre Company. She makes her life in Portland, Maine, with her husband, the photographer Dan Davis, their son and their dog, Hopper.
or
Not Currently Available for Direct Purchase