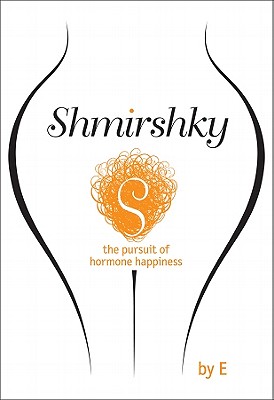 Shmirshky (Hardcover)
The Pursuit of Hormone Happiness
Hyperion, 9781401341688, 192pp.
Publication Date: January 1, 2011
* Individual store prices may vary.
Description
"Informative, engaging, and hilarious!"
—Sarah Brokaw, author of Fortytude

Hot flashes flashing you awake at 3 a.m.? Forgetting the names of your very own children? Don't worry—E, the author of Shmirshky, understands how you feel.

Shmirshky is the first book of its kind—a guide to women's midlife changes that's quick, easy, and full of love! Reading Shmirshky is like having coffee with a hilarious friend who tells it straight about hormone craziness and how to get help.

Let's face it, perimenopause and menopause are still too rarely talked about. Shmirshky turns this taboo topic into an all-inclusive page-turner.

Whether you're a woman who's suddenly losing her keys, her temper, and her mind, or that woman's partner, child, or friend, Shmirshky is for you.

Suffering in silence is OUT. Reaching out is IN.

What the heck is a shmirshky?

a delicious dessert
an ancient form of yoga
a superfood
a posh baby stroller brand
a painful deep tissue massage
an automatic floor mop
a precursor to modern-day vodka
the feeling you get after eating too many French fries
a feeling of serenity and empowerment a community a movement
a name for something special that only women possess
a guide to achieving your very own version of hormone happiness
. . . well, now you're on to something!
About the Author
"E" is the pen name of Ellen Sarver Dolgen, who wrote Shmirshky in collaboration with her son, the writer, musician and entrepreneur Jack Dolgen. Ellen was the National Deputy Treasurer of the Carter-Mondale re-election campaign; was a member of Berman and Associates, a Washington, D.C., consulting firm and served as National Finance Coordinator for U.S. Senator Henry M. Jackson's 1976 bid for the Democratic Party's presidential nomination. Ellen has continued her lifelong commitment to health and wellness through board representation, event organization, and fundraising, most recently for the Obama campaign. In May she was invited to The First Lady's Mother's Day Tea at the White House, where Michelle Obama said she needed a copy of the book "now, " and served on the Host Committee for DNC Women's Leadership Forum. Ellen is a founding member of Fresh Start Women's Foundation and currently serves on the Community Advisory Board of Scripps Memorial Hospital La Jolla. Jack Dolgen is a writer, musician and creative entrepreneur who lives in LA. While Ellen Dolgen is the charismatic, relatable spokesperson for Shmirshky, she and Jack are a memorably funny duo and backstory to the book.
or
Not Currently Available for Direct Purchase