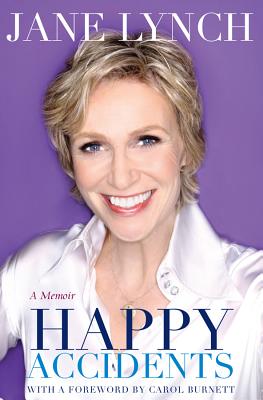 Happy Accidents (Hardcover)
Hachette Books, 9781401341763, 320pp.
Publication Date: September 13, 2011
Other Editions of This Title:
Digital Audiobook (9/12/2011)
Compact Disc (9/1/2011)
CD-Audio (5/1/2012)
Hardcover (9/1/2011)
* Individual store prices may vary.
Description
In the summer of 1974, a fourteen-year-old girl in Dolton, Illinois, had a dream. A dream to become an actress, like her idols Ron Howard and Vicki Lawrence. But it was a long way from the South Side of Chicago to Hollywood, and it didn't help that she'd recently dropped out of the school play, The Ugly Duckling. Or that the Hollywood casting directors she wrote to replied that "professional training was a requirement."

But the funny thing is, it all came true. Through a series of happy accidents, Jane Lynch created an improbable--and hilarious--path to success. In those early years, despite her dreams, she was also consumed with anxiety, feeling out of place in both her body and her family. To deal with her worries about her sexuality, she escaped in positive ways--such as joining a high school chorus not unlike the one in Glee--but also found destructive outlets. She started drinking almost every night her freshman year of high school and developed a mean and judgmental streak that turned her into a real-life Sue Sylvester.

Then, at thirty-one, she started to get her life together. She was finally able to embrace her sexuality, come out to her parents, and quit drinking for good. Soon after, a Frosted Flakes commercial and a chance meeting in a coffee shop led to a role in the Christopher Guest movie Best in Show, which helped her get cast in The 40-Year-Old Virgin. Similar coincidences and chance meetings led to roles in movies starring Will Ferrell, Paul Rudd, and even Meryl Streep in 2009's Julie & Julia. Then, of course, came the two lucky accidents that truly changed her life. Getting lost in a hotel led to an introduction to her future wife, Lara. Then, a series she'd signed up for abruptly got canceled, making it possible for her to take the role of Sue Sylvester in Glee, which made her a megastar.

Today, Jane Lynch has finally found the contentment she thought she'd never have. Part comic memoir and part inspirational narrative, this is a book equally for the rabid Glee fan and for anyone who needs a new perspective on life, love, and success.

WITH A FOREWORD BY CAROL BURNETT
About the Author
Jane Lynch grew up on the south side of Chicago. She currently lives in Los Angeles, CA, with her wife, Dr. Lara Embry.

Lisa Dickey, a long-time friend of the author, is the co-writer of New York Times bestsellers by Patrick Swayze, Euna Lee, and Cathie Black. She also lives in Los Angeles.
or
Not Currently Available for Direct Purchase