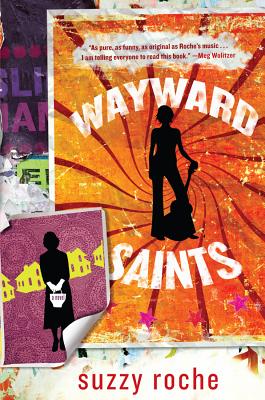 Wayward Saints (Hardcover)
Hyperion Books, 9781401341770, 259pp.
Publication Date: January 17, 2012
* Individual store prices may vary.
or
Not Currently Available for Direct Purchase
Description
From a folk-rock legend comes a tender, comic story of family, music, and second chances. Mary Saint, the rule-breaking, troubled former lead singer of the almost-famous band Sliced Ham, has pretty much given up on music after the trauma of her band member and lover Garbagio's death seven years earlier. Instead, with the help of her best friend, Thaddeus, she is trying to piece her life together while making mochaccinos in San Francisco. Meanwhile, back in her hometown of Swallow, New York, her mother, Jean Saint, struggles with her own ghosts. When Mary is invited to give a concert at her old high school, Jean is thrilled, though she's worried about what Father Benedict and her neighbors will think of songs such as "Sewer Flower" and "You're a Pig." But she soon realizes that there are going to be bigger problems when the whole town--including a discouraged teacher and a baker who's anything but sweet--gets in on the act. Filled with characters that are wild and original, yet still familiar and warm--plus plenty of great insider winks at the music industry--Wayward Saints is a touching and hilarious look at confronting your past and going home again.
About the Author
Along with her sisters, Maggie and Terre, Suzzy Roche is a founding member of the beloved singing group The Roches, whose debut recording was named Album of the Year by the New York Times in 1979. She has been touring for over 30 years, appeared on SNL, The Letterman Show, and the Tonight Show with Jay Leno. The Roches have collaborated with Paul Simon, The Indigo Girls, Philip Glass, and Laurie Anderson. She recently teamed up with Meg Wolitzer to co-host "A Love Affair Between Words and Music" for WNYC at Symphony Space in New York, and is the creator of 'Zero Church," a performance piece that has been performed all over the United States. In 2013, her first children's book will be published by Random House.
Praise For Wayward Saints…
"Not every dazzling musician has a novel in her, but Suzzy Roche, among all her other gifts, is a novelist, the genuine article. Wayward Saints is funny, smart, poignant, the prose so clear, so direct, so true. This book is a joy."—Jane Hamilton, author of The Book of Ruth and A Map of the World

"Wayward Saints is full of wonderful observations about family, fame, guilt, aging, the stupid music business, and the power & glory of performing and creating. Most importantly, Suzzy Roche has written a book about love and redemption. And it's funny! I loved the little details and the big surprises."—Loudon Wainwright, Grammy-winning songwriter

"If you've ever had the privilege of hearing Suzzy Roche sing, you know all about her perfect pitch, her angel's voice, her subtle wit. Her masterful debut novel Wayward Saints (Voice) mines these same prodigious gifts. When Mary Saint, a once-promising indie rocker, is invited to perform in her hometown, where her mother Jean still holds court, the two are forced into a long-deferred reckoning: with each other and with the demons of their past. This is a golden-threaded tale of redemption, of the transformative powers of art, and of the mysteries, pains and sacrifices of love."—Deborah Copaken Kogan, author of Hell Is Other Parents and The Red Book

"Spoiler alert: this book is wonderful from beginning to end. I loved every page."—Patty Marx, author of Starting from Happy

"I'm jealous! How can it be that someone who sings like Suzzy Roche can also write this well, tell us so much not only about the music business but about the large hearts of her characters, the locales of their deepest pain and the sources of their strength? Her language is dazzling -- unpredictable, supremely funny, irreverent, and full of authority. Wayward Saints is the best and most surprising debut novel I've read since I can't remember when."—Rosellen Brown, author of Half a Heart and Before and After
Advertisement