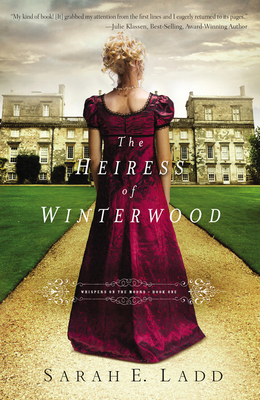 The Heiress of Winterwood (Whispers on the Moors #1)
Paperback

* Individual store prices may vary.
Other Editions of This Title:
Digital Audiobook (4/7/2013)
MP3 CD (4/15/2014)
Compact Disc (4/15/2014)
Description
In this sweet Regency romance, Amelia Barret will risk everything to keep her word--even to the point of proposing to a sea captain she's never met.
Amelia Barrett, heiress to an estate nestled in the English moors, defies family expectations and promises to raise her dying friend's baby. But she knows she can't do it alone and finds herself in the surprising position of asking Graham, the child's father--a man she's never met before--to marry her.
When the baby vanishes with little more than an ominous ransom note hinting at her whereabouts, Amelia and Graham are driven to test the boundaries of their love for this little one.
Amelia's detailed plans would normally see her through any trial, but now, desperate and shaken, she's forced to examine her soul and face her one weakness: pride.
Graham's strength and self-control have served him well and earned him much respect, but chasing perfection has kept him a prisoner of his own discipline. And away from the family he has sworn to love and protect.
To save the child they've both come to love--and any hopes of preserving their fledgling love--both must learn to relinquish control so they can embrace the future ahead of them.
Praise for The Heiress of Winterwood
"My kind of book It] grabbed my attention from the first lines and I eagerly returned to its pages." --Julie Klassen, bestselling, award-winning author
"A one-of-a-kind regency that kept me sighing with joy, laughing, crying, and even biting my nails when the occasion called for it " --MaryLu Tyndall, bestselling author
"A timeless regency that rises to the ranks of Heyer and Klassen" --Julie Lessman, award-winning author
The first book in the Whispers on the Moors series (The Headmistress of Rosemere is second and A Lady at Willowgrove Hall is third)
Books can be read out of order
A full-length novel at 90,000 words
A happily ever after clean romance
Thomas Nelson, 9781401688356, 320pp.
Publication Date: April 8, 2013