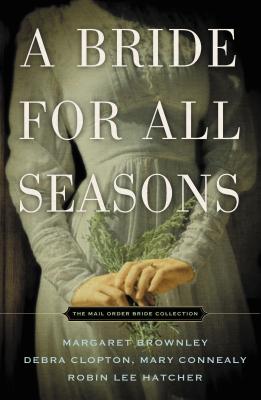 A Bride for All Seasons
A Mail-Order Bride Collection
Paperback

* Individual store prices may vary.
Other Editions of This Title:
Hardcover, Large Print (11/13/2013)
Description
ItAll Started with an Ad in a Mail Order Bride Catalogue...MelvinHitchcock of the Hitching Post Mail Order Bride Catalog isn't dishonest-notexactly. If he tweaks his clients' applications a bit, it's because he'slooking out for their best interests.
Thischarming bouquet of novellas introduces four Hitching Post prospects inthe year 1870, each one eager for second chances . . . and hungry forhappiness. Year in, year out, they'll learn that love often comes in unexpectedpackages.
AndThen Came Spring by Margaret Brownley
Mary-Johas been unlucky all her life. But who would guess she'd travel halfway acrossthe country to meet her match . . . only to find him dead
AnEver-After Summer by Debra Clopton
Elliehad no idea she's not what Matthew ordered. And what's wrong with being a"Bible thumper" anyway? She's determined to show him she's tougher than shelooks-and just the girl he needs.
Autumn'sAngelby RobinLee Hatcher
Luvenawould be perfect for Clay if she didn't come with kids. But kids are a dealbreaker, especially in a rough-and-trouble mining town. The trouble is, there'sno money to send them back. . .
WinterWedding Bells by Mary Connealy
David'sconvinced he's not long for the world. He needs someone to mother his boys whenhe's gone-nothing more. Can plucky Irish Megan convince him to work at livinginstead of dying?
Thomas Nelson, 9781401688530, 390pp.
Publication Date: June 25, 2013
About the Author
Margaret Brownley is a "New York Times" best-selling author and has penned more than twenty-five historical and contemporary novels. "A Lady Like Sarah" was a Romance Writers of America RITA finalist.