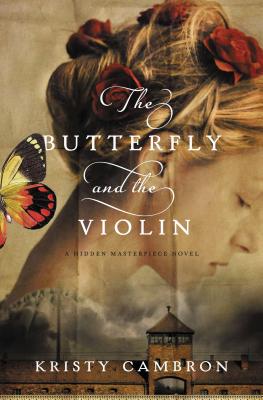 The Butterfly and the Violin (Hidden Masterpiece Novel) (Paperback)
Thomas Nelson, 9781401690595, 329pp.
Publication Date: July 8, 2014
Other Editions of This Title:
Digital Audiobook (6/8/2015)
Compact Disc (6/9/2015)
MP3 CD (6/9/2015)
Hardcover, Large Print (1/7/2015)
* Individual store prices may vary.
Description
"Fresh. Fascinating. Unforgettable. The Butterfl y and the Violin is a masterpiece of a debut." --Laura Frantz, author of Love's Reckoning
". . . impossible to put down." --RT Book Reviews, 4 1/2 Stars, TOP PICK
A Mysterious painting breathes hope and beauty into the darkest corners of Auschwitz--and the loneliest hearts of Manhattan.
Manhattan art dealer Sera James watched her world crumble at the altar two years ago, and her heart is still fragile. Her desire for distraction reignites a passion for a mysterious portrait she first saw as a young girl--a painting of a young violinist with piercing blue eyes.
In her search for the painting, Sera crosses paths with William Hanover--the grandson of a wealthy California real estate mogul--who may be the key to uncovering the hidden masterpiece. Together Sera and William slowly unravel the story behind the painting's subject: Austrian violinist Adele Von Bron.
A darling of the Austrian aristocracy of 1942, talented violinist, and daughter to a high-ranking member of the Third Reich, Adele risks everything when she begins smuggling Jews out of Vienna. In a heartbeat, her life of prosperity and privilege dissolves into a world of starvation and barbed wire.
As Sera untangles the secrets behind the painting, she finds beauty in the most unlikely of places: the grim camps of Auschwitz and the inner recesses of her own troubled heart.
"In her historical series debut, Cambron expertly weaves together multiple plotlines, time lines, and perspectives to produce a poignant tale of the power of love and faith in difficult circumstances. Those interested in stories of survival and the Holocaust, such as Eli Wiesel's Night, will want to read." --Library Journal, starred review
". . . debut novelist Cambron vividly recounts interwoven sagas of heartache and recovery through courage, love, art, and faith." --Publishers Weekly
Includes Reading Group Guide
About the Author
Kristy Cambron has been fascinated with WWII since hearing her grandfather's stories. She holds an Art History degree from Indiana University and has 15 years industry experience as a corporate learning facilitator and communications consultant. Kristy writes WWII and Regency fiction. She makes her home in Indiana with her husband and three football-loving sons. Website: www.kristycambron.com Twitter: @KCambronAuthor Facebook: Kristy-L-Cambron-Author