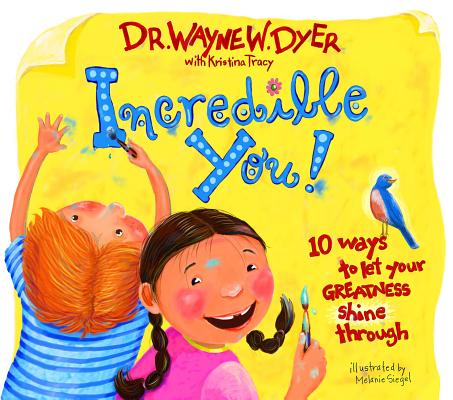 Incredible You! (Hardcover)
10 Ways to Let Your Greatness Shine Through
Hay House Inc., 9781401907822, 32pp.
Publication Date: November 15, 2005
Other Editions of This Title:
Hardcover, Spanish (2/1/2007)
* Individual store prices may vary.
Description
Dr Wayne W. Dyer has taken then 10 concepts from his book for adults "10 Secrets for Success & Inner Peace" and interpreted them for children, creating "Incredible You"! Wayne believes that it's never too early for children to know that they're unique and powerful beings, and they have everything they need within themselves to create happy, successful lives. With this book, parents can introduce these important ideas to their children. The ten concepts are numbered, titled and set in rhyming verse, and vibrant illustrations bring each point to life. At the end, there are questions that kids can answer to connect these ideas to their own lives, and make them realize how incredible they truly are.Renowned author Wayne Dyer has distilled his 10 Secrets for Success and Inner Peace into a children's book titled Incredible You! 10 Ways to Let Your Greatness Shine Through. Co-written with Kristina Tracy and illustrated by Melanie Siegel, this colorful uplifting book affirms and encourages children to imagine, explore, and expect beauty in all its forms. The 10 Ways to Let Your Greatness Shine Through are: 1. Share the Good 2. Find What You Love 3. You are Filled with Love 4. Find a Quiet Place Inside 5. Make Today Great! 6. Change Your Thoughts to Good 7. Take Care of Yourself 8. Picture What You Want 9. Everyone Is Special, Especially You 10. Good Thoughts Give You Energy
About the Author
Affectionately called the "father of motivation" by his fans, Dr. Wayne W. Dyer was an internationally renowned author, speaker, and pioneer in the field of self-development. Over the four decades of his career, he wrote more than 40 books (21 of which became New York Times bestsellers), created numerous audio programs and videos, and appeared on thousands of television and radio shows. His books Manifest Your Destiny, Wisdom of the Ages, There's a Spiritual Solution to Every Problem, and the New York Times bestsellers 10 Secrets for Success and Inner Peace, The Power of Intention, Inspiration, Change Your Thoughts—Change Your Life, Excuses Begone!, Wishes Fulfilled, and I Can See Clearly Now were all featured as National Public Television specials.Wayne held a doctorate in educational counseling from Wayne State University, had been an associate professor at St. John's University in New York, and honored a lifetime commitment to learning and finding the Higher Self. In 2015, he left his body, returning to Infinite Source to embark on his next adventure.Website: www.DrWayneDyer.com Kristina Tracy is a writer, mom, and many other things (wife, gardener, decorator, horseback rider). She lives in Olivenhain, California with her husband and two children, Ava and Dane.