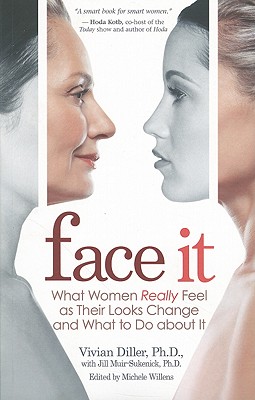 Face It: What Women Really Feel as Their Looks Change and What to Do about It (Paperback)
What Women Really Feel as Their Looks Change and What to Do about It
Hay House, 9781401925413, 198pp.
Publication Date: May 15, 2011
* Individual store prices may vary.
or
Not Currently Available for Direct Purchase
Description
Intellectually, we understand aging. So why does the first wrinkle or gray hair send us into an emotional tailspin? As smart women who were raised to believe that success and happiness are based on intelligence and accomplishments, many of us never expected to feel this deeply about a seemingly superficial issue. But let's face it, we do While individually we were taught that beauty is only skin deep, our youth-obsessed culture reinforces the notion that beauty is our currency, our power, and what makes us female. These conflicting messages leave many women feeling trapped in a web of confusion. Do we grow old naturally, since our looks don't define us, or do we fight the signs of aging, since beauty and youth are prized so dearly? As models turned psychotherapists, Vivian Diller, Ph.D., and Jill Muir-Sukenick, Ph.D., have had the opportunity to examine the world of beauty from two very different vantage points--one where looks are all-important, and the other where they are often viewed as irrelevant. This unique perspective helped them develop a six-step program that starts with recognizing "uh-oh" moments, examines the emotional impact of aging on self-image, and ends by suggesting innovative ways to approach beauty throughout life, so you can enjoy your appearance--at any age.
About the Author
Vivian Diller, Ph.D., is a clinical psychologist in private practice in New York City. Prior to becoming a therapist, Diller was a professional dancer with the Cincinnati Ballet Company and a model represented by Wilhelmina Models. Diller went on to earn a Ph.D. from the Albert Einstein College of Medicine, Yeshiva University, and a postdoctoral degree in psychoanalysis from NYU. She has served as a consultant to a major cosmetics company and has been featured in The New York Times, Forbes, The Huffington Post, Daily Mail, andOprah.com. She has also appeared on national television discussing issues surrounding beauty and aging. Jill Muir-Sukenick, Ph.D., a psychoanalytic psychotherapist in New York City, is a former Ford model who also did television and film work. Muir-Sukenick, who received her Ph.D. from NYU, often treats models in her private practice. She has been a consultant to modeling agencies and the beauty industry, and she has been interviewed in print and on television about issues related to aging and self-image.
Advertisement