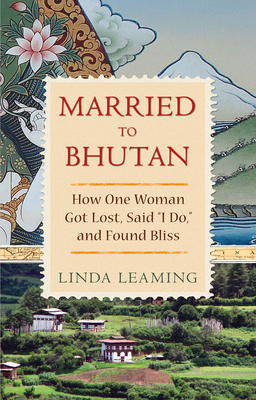 Married to Bhutan
How One Woman Got Lost, Said I Do, and Found Bliss
Paperback

* Individual store prices may vary.
Description
Tucked away in the eastern end of the Himalayas lies Bhutan—a tiny, landlocked country bordering China and India. Impossibly remote and nearly inaccessible, Bhutan is rich in natural beauty, exotic plants and animals, and crazy wisdom. It is a place where people are genuinely content with very few material possessions and the government embraces "Gross National Happiness" instead of Gross National Product. In this funny, magical memoir, we accompany Linda Leaming on her travels through South Asia, sharing her experiences as she learns the language, customs, and religion; her surprising romance with a Buddhist artist; and her realizations about the unexpected path to happiness and accidental enlightenment. As one of the few Americans to have lived in Bhutan, Leaming offers a rare glimpse into the quirky mountain kingdom so many have only dreamed of. For over ten years, Leaming has lived and worked in the town of Thimphu, where there are no traffic lights and fewer than 100,000 people. "If enlightenment is possible anywhere," she writes, "I think it is particularly possible here." The Bhutanese way of life can seem daunting to most Westerners, whose lives are consumed with time, efficiency, and acquiring things. But Leaming shows us that we don't necessarily have to travel around the world to appreciate a little Bhutan in our own lives, and that following our dreams is the way to be truly happy.
Praise For Married to Bhutan: How One Woman Got Lost, Said I Do, and Found Bliss…
"Chronicling her realisations about the path to happiness and her unexpected enlightenment along the way, it's an incredibly entertaining memoir that will have you laughing out loud from the first page."
-Soul & Spirit 

"At its core, Married to Bhutan is a romance; it's the true story of Linda Leaming's love affair with both her Bhutanese husband and with Bhutan itself. Leaming, from America, visited the Buddhist nation of Bhutan for the first time when she was thirty-nine. It would be 'a nice diversion,' the travel agent had told her. But as soon as that first trip was over, Leaming was devising ways to return. The country was to become, not a diversion, but her life-a life full of hilarious linguistic bumbling, a flexible sense of time, and a sharp awareness of impermanence. 'In the West, it is possible to live and be asleep,' she writes. 'In Bhutan one is compelled to wake up.' Leaming's husband is a renowned thangka painter and I very much enjoyed the intimate look at his artistic process."
-Shambhala Sun 

"Married to Bhutan is wonderfully wise and endearing, much like the Himalayan kingdom that is its subject. Leaming's graceful, witty prose captures the magic of Bhutan, a place where happiness is more than just a nice idea. It is a way of life."
-Eric Weiner, author of The Geography of Bliss

"Paradise exists and it can be found within the pages of this book, which provides a delightful and charming trek through the happiest, most beautiful, and serene place on earth: Bhutan. A must-read for all those who know that the best journeys take place in multiple dimensions simultaneously."
-Arielle Ford, author of The Soulmate Secret 

"After reading this book, I wanted to marry Bhutan-and Linda Leaming.... In the end, her book is about openness and love and how they are expressed in the caring actions of ordinary Bhutanese people. Linda shows us the beauty of Bhutan and expresses a tenderness toward her earthy in-laws that inspires me to open my own heart more and helps me realize that we are all bigger and more capable of love and adventure than we can imagine."
-Cyndi Lee, Founder, OM yoga
Hay House Inc., 9781401928469, 264pp.
Publication Date: April 1, 2011
About the Author
Linda Leaming is a writer whose work has appeared in Ladies' Home Journal, Mandala, Guardian UK, A Woman's Asia (Travelers' Tales), and many other publications. Eric Weiner included her in his bestseller, The Geography of Bliss. Originally from Nashville, she has an M.F.A. in fiction from the University of Arizona; and she regularly speaks about Bhutan at colleges, churches, seminars, and book groups. She is married to the renowned Bhutanese thanka painter, Phurba Namgay.Find her at: www.marriedtobhutan.com and www.twitter.com/lindaleaming.