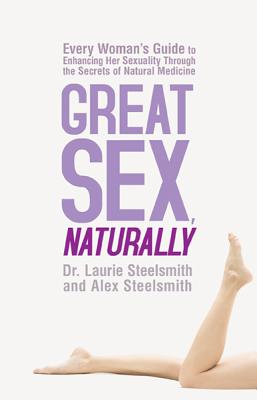 Great Sex, Naturally (Paperback)
Every Woman's Guide to Enhancing Her Sexuality Through the Secrets of Natural Medicine
Hay House Inc., 9781401931469
Publication Date: July 17, 2012
* Individual store prices may vary.
Description
Do you want to powerfully transform your sexual energy, and boost your overall health at the same time? Whether you already enjoy a healthy sex life and would like to dramatically enhance it, or you need solutions to specific sexual health challenges, Great Sex, Naturally is the book you've been waiting for. It reveals for the first time how you can combine modern medicine, ancient secrets, and completely natural methods to dynamically recharge both your sexuality and your total health. This invaluable resource gives you many easy, safe, and effective tools and techniques—including Western and Eastern herbs, aphrodisiacs, nutritional supplements, dietary changes, exercises, natural hormones, vaginal lubricants and suppositories, acupressure, detoxification, and more—that you can use to increase your libido and transform your life on many levels. A completely accessible all-purpose guide, Great Sex, Naturally is loaded with practical advice, specific tips, and simple solutions you can apply yourself. You can use it to directly address any immediate concerns you may have—such as enhancing libido naturally and safely, diminished sex drive, vaginal dryness, menstruation, ovulation, fertility, perimenopausal and menopausal changes, and many others—or you can read it cover to cover and experience the ultimate sexual health makeover. This unique book will empower you to take control of your sexual health and your overall well-being, and make changes in your life that will benefit you on a daily basis. A groundbreaking resource, innovative and comprehensive, this work is destined to become a classic for women who want to create more fulfilling sex lives.
About the Author
Dr. Laurie Steelsmith is a licensed naturopathic physician and acupuncturist, and co-author of the critically acclaimed book Natural Choices for Women's Health. A leading spokesperson on the topic of natural medicine, she has appeared on CNN's HealthWatch, and numerous other television and radio programs. She is frequently quoted in popular publications, including Woman's World, Self, Natural Health, Women's Health, Body and Soul, Better Nutrition, Vegetarian Times, Alternative Medicine, Oprah.com, WebMD, Health, First for Women, and Delicious Living. She has presented hundreds of public lectures and seminars in the United States and abroad. A graduate of Bastyr University, America's leading center for the study of natural medicine, Dr. Steelsmith has had a highly regarded private practice in Honolulu since 1993. For more information, visit: www.DrSteelsmith.com.Alex Steelsmith is co-author of the critically acclaimed book Natural Choices for Women's Health and author or co-author of more than 200 articles on health-related topics that have appeared in The Honolulu Advertiser, Nature & Health magazine, Healthy Living Today, Vision Magazine, Hawaii Health Guide, and many other publications. A fine artist as well as a writer, Alex illustrated Natural Choices for Women's Health and a number of articles that he has authored or co-authored. His artwork has been exhibited in numerous galleries and museums, and received many awards. You can learn more at: www.SteelsmithArt.com.