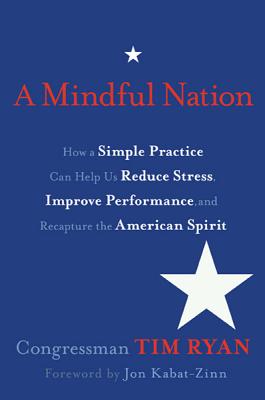 A Mindful Nation
How a Simple Practice Can Help Us Reduce Stress, Improve Performance, and Recapture the American Spirit
Hardcover

* Individual store prices may vary.
Other Editions of This Title:
CD-Audio (3/27/2012)
Paperback (3/27/2013)
Description
       In one of the most optimistic books to come out of Washington during these trying times, Congressman Tim Ryan presents us with an inspiring and hopeful view of our country's future—and a roadmap for how to get there. Across America, people are feeling squeezed, exhausted, and running faster and faster while falling farther behind. The economy continues to struggle, wars rage on, and every week brings news of another environmental disaster. Everything seems broken and people feel helpless to make a difference. Despite this bleak outlook, there are strands of quiet hope and confidence. People are beginning to take action in a new way: they are slowing down, paying attention, and gaining an awareness of the inner resources at their disposal.
This new way is based on the timeless and universal practice of mindfulness, the natural capabilities of our brains and minds, and the core American values of self-reliance, stick-to-it-iveness, and getting the job done.  And it's manifesting in every sector of our society—it's helping sick people work with their pain, school children improve their learning, veterans heal from trauma, and CEOs become more inclusive and effective leaders. All these benefits—and more—are supported by scientific research on mindfulness that is regularly reported by the mainstream media, such as ABC World News with Diane Sawyer.
In A Mindful Nation, Congressman Tim Ryan—an all-American guy from the heartland who is also a thoughtful, committed leader—takes this story about the benefits of mindfulness to the next level. He connects the dots between what's happening with mindfulness in the classrooms, hospitals, boardrooms, research labs, and army bases across the country by sharing his interactions with experts in education, defense, health care, criminal justice, and the environment. A Mindful Nation paints a picture of emerging solutions that both benefit the reader and address the societal difficulties we are facing. Ryan's folksy, warm, and encouraging voice uplifts us and shows that there is something we can do right here and right now to help ourselves and our country.
Both inspiring and pragmatic, A Mindful Nation shows how the benefits of mindfulness apply to the current challenges that affect each of us in our own lives and in our communities, and thus have implications for our society as a whole. With a hard-nosed understanding of politics, government budgets, and what it takes to get something done, Ryan connects a practical approach—lead with the science, show the savings and show how this can help us educate our children to be competitive in the world arena—with a hopeful vision for how mindfulness can reinvigorate our core American values and transform and revitalize our communities.
Praise For A Mindful Nation: How a Simple Practice Can Help Us Reduce Stress, Improve Performance, and Recapture the American Spirit…
 "Tim Ryan takes a big challenge in writing A Mindful Nation. He challenges the nation to take up meditation in their daily lives and tells us 'why/how' it works. I know this territory and wish him and us Godspeed."
— Phil Jackson, former Coach of the Chicago Bulls and Los Angeles Lakers, winner of 11 NBA Titles, author of Sacred Hoops
"A Mindful Nation has the potential to change our country—and the world—one person at a time."
— Deepak Chopra, author, War of the Worldviews
"Inspiring! An important book. If more politicians can follow in Congressman Ryan's lead and look to harness the power of mindfulness, then the future of this country will be bright."
— Russell Simmons, CEO, Rush Communications
"Tim Ryan shows how the simple practice of mindfulness can make us happier, more productive, and more compassionate. An unexpected and welcome book, I highly commend it to all who are searching for a deeper life and a better society."
— Rev. Jim Wallis, President of Sojourners, author of God's Politics
"Congressman Ryan offers us a beautifully written, practical, and comprehensive view of the far-reaching effects of mindfulness in civil society. This book brings the entire field of exploring mindfulness forward."
— Sharon Salzberg, author of Real Happiness
"Congressman Ryan offers a clear, compelling, and compassionate beacon of hope for America at this time of gathering darkness."
— Margaret J. Wheatley, author of Leadership and the New Science
"It is only through a shift in consciousness that the world will be transformed. Congressman Tim Ryan has written a truly powerful book in which he shares a vision for the United States that reflects this ideal. He reminds us that the word 'United' in our country's name is first and foremost a spiritual principle. That we are all connected, that loving each other and working together as one is not for fanciful daydreamers, it is a real possibility. He writes eloquently of the power of kindness in how we interact with each other and more significantly how our government can implement mindfulness in its dealings with its citizens. As we become more enlightened, great political leaders will emerge from this new consciousness to lead us to Camelot, Avalon, or a Shining City on a Hill. Tim Ryan is one of those who can get us back to the "United" in U.S.A., and we can, maybe for the first time, live our national motto, 'e pluribus unum.' Must reading for all."
— Dr. Wayne W. Dyer, best-selling author of Wishes Fulfilled: Mastering the Art of Manifesting
Hay House Inc., 9781401939298
Publication Date: March 27, 2012
About the Author
         Tim Ryan was first elected to the U.S. House of Representatives in 2002, at the age of 29, and is currently serving in his fifth term representing Ohio's 17th Congressional District. He maintains a strong commitment to the economic and social well-being of his constituents in northeast Ohio. He serves as a member of the House Armed Services Committee, as well as its Subcommittees on Readiness and on Emerging Threats and Capabilities. He also serves as a member of the House Budget Committee and co-chairman of the Congressional Manufacturing Caucus.
Congressman Ryan has a daily mindfulness meditation practice. He has been an outspoken advocate for promoting mindfulness practice as an aid to dealing with the variety of complex problems facing the nation. During his tenure in the House, he has helped to get mindfulness and social and emotional learning programs established in several schools in his district. He also spearheaded a conference at a medical school in his district on Mindfulness-Based Stress Reduction. Before being elected to Congress, Ryan served in the Ohio State Senate, as president of the Trumbull County Young Democrats, as chairman of Earning by Learning in Warren, Ohio, and as a congressional aide.
or
Not Currently Available for Direct Purchase