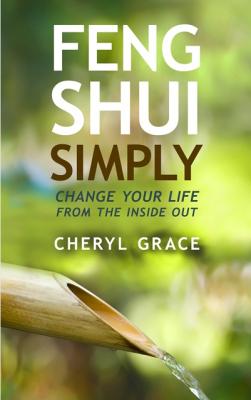 Feng Shui Simply
Change Your Life From the Inside Out
Paperback

* Individual store prices may vary.
Description
     In Feng Shui Simply, Cheryl Grace digs deep into the principles of feng shui to present an exciting new view of this age-old concept and shows that feng shui isn't just about rearranging your furniture or painting your walls; it goes much deeper. She opens your eyes to how feng shui can be used to balance the energy of every part of your life—both in your external and internal environments. Grace shows that bringing your focus to both of these worlds is a powerful way to design the life you're meant to live.
     In these pages, Grace takes you on a journey to design your living spaces using the classic Bagua map—a chart separating physical spaces into nine areas, each representing a different aspect of life, such as wealth, family, and career. But perhaps more importantly, she goes one step further, teaching you the inner work of feng shui using her own Inner Wisdom Bagua map, which correlates the characteristics, beliefs, and attitudes that will help you flourish in each area of your life.
     Sharing anecdotes from her own experience switching careers from an ESPN executive to a feng shui consultant, as well as her clients' success stories, Grace walks you through each area of the standard and Inner Wisdom Bagua maps to create unique solutions for your life. She teaches you to harness the power of your intuition to determine what's true and important for you. And she offers practical tools based on concepts such as Yin and Yang, the Five Elements, and the Magical Day, to help you figure out which enhancements will be the most effective in transforming your life.
     By celebrating key principles like universal gratitude, a positive outlook, and living in the present moment, she shows you how to manage life on a day-to-day basis and points you toward your life's true purpose.
Praise For Feng Shui Simply: Change Your Life From the Inside Out…
"Feng shui expert Cheryl Grace has created a step-by- step approach to feng shui that is not only an organizational tool for your home but also a way of life. Feng Shui Simply is highly recommended to anyone wanting to lead an inspired way of living using the time-proven principles of Feng Shui."
— Julie Morgenstern, New York Times best-selling author of Organizing from the Inside Out
"Cheryl Grace offers her insightful feng shui and life-design expertise on creating an optimal life. Her book brings you the wisdom of feng shui and much more."
— Terah Kathryn Collins, best-selling author of The Western Guide to Feng Shui and founder of the Western School of Feng Shui
"Through Feng Shui Simply, Cheryl Grace is able to assist us in accessing our highest potential for living an authentic and purposeful life. Her insightful and practical tools provide solid evidence of this transformative work. Cheryl's genuine warmth, humor, and wisdom make her a gifted and inspiring teacher for us all."
— Peggy Rometo, author of The Little Book of Big Promises
"This 'encyclopedia of empowerment' should be required reading for anyone who wants to permanently improve their relationships, finances, and health. I highly recommend Cheryl Grace's Feng Shui Simply!"
— Darren Weissman, best-selling author and developer of The LifeLine Technique®
"With Feng Shui Simply, Cheryl Grace has skyrocketed my appreciation for the ancient art of feng shui and its myriad nuances. This comprehensive guide covers scads more than its title suggests, touching on all areas of energy-based personal growth. Never before has feng shui made so much sense to me, and never before have I understood the full scope of its awesome power over our lives. I immediately put Cheryl's wisdom into practice and the results have been spectacular. I'm thrilled to add this exciting tool to my energetic tool belt!"
— Lisa McCourt, writing coach, joy trainer, and author of Juicy Joy: 7 Simple Steps to Your Glorious, Gutsy Self
"Cheryl Grace calls us home to remind us of how profoundly the energy of our surroundings affects us, and how important it is for feng shui to be personalized to fit the unique spirit of the person living in a space. You'll learn so much from this book."
— Jean Haner, author of The Wisdom of Your Face and Your Hidden Symmetry
Hay House Insights, 9781401939786, 282pp.
Publication Date: May 1, 2013
About the Author
Cheryl Grace is a feng shui author, professional consultant, motivational speaker, and teacher, who specializes in helping people design their lives from the inside out. Grace is President and CEO of Redecorating . . . with feng shui, the highly regarded consultancy based in Sarasota, Florida, that she founded after a successful career as a corporate executive at ESPN. As a watercolor artist, she has a line of Living Art® home décor and artwork inspired by feng shui available on her website, www.CherylGrace.com.