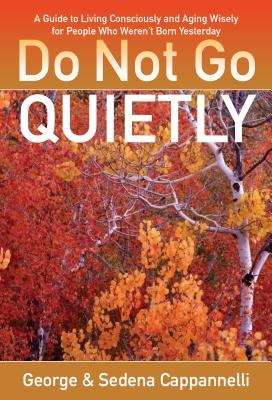 Do Not Go Quietly
A Guide to Living Consciously and Aging Wisely for People Who Weren't Born Yesterday
Hardcover

* Individual store prices may vary.
Other Editions of This Title:
Paperback (3/17/2015)
Description
      Do Not Go Quietly is an extraordinary and important book for all Gen Xers (40 to 45), baby boomers (46 to 64), and elders (65 and older). It is also valuable for those under 40 who want to better understand and assist their parents, older friends, and relatives.
Discover how to harvest the fruits of our past and turn them into gold we can invest in the present and future. Learn how to live with greater mindfulness in each moment so that we can more fully celebrate our lives, live our dreams, and heal any wounds that may encumber us. See how to chart a more harmonious, joyful, and successful course so that we'll be able to say with pride, "We have run the course to the best of our abilities, and we will leave behind a legacy of genuine value."
Praise For Do Not Go Quietly: A Guide to Living Consciously and Aging Wisely for People Who Weren't Born Yesterday…
"Profound, compassionate and deeply useful, this book is a guide to the genius and capacities inherent in the second half of life
- Jean Houston
Agape Media International, LLC., 9781401942496
Publication Date: April 18, 2013
About the Author
George and Sedena Cappannelli are popular authors; speakers; and co-founders of AgeNation, a digital-media company and social enterprise, and The Age of Empowerment,a nonprofit organization that supports people and organizations serving vulnerable sections of our aging population. They are experts on individual, organizational, and societal change and well-known consultants, coaches, and keynote presenters who have worked with thousands of individuals and hundreds of the world's leading institutions in both the private and public sectors, including Boeing, NASA, The Walt Disney Company, Oracle, PepsiCo, the Los Angeles Times, U.S. Navy, and more.
George and Sedena have appeared on hundreds of television and radio programs during two national book tours and in conjunction with their other projects and programs, including their own radio talk show, Talk About Your Life, in Phoenix, Arizona. George is also an Emmy Award–winning film and television producer/director, and Sedena has been a member of the Screen Actors Guild since 1979, having appeared in numerous films, television programs, and theatrical productions. She is also the founder of About Life, Inc, a company she created to bring personal empowerment to women.
In addition, George was the co-founder of The International Integrity Program; served as executive director of The Sedona Institute; and was the director of The Society for the Advancement of the Human Spirit, an organization chaired by the Dalai Lama. He has worked on special projects with Golda Meir, Lech Walesa, Desmond Tutu, Mother Teresa, and other world leaders. In 1991, George managed Jerry Brown's U.S. Senate campaign in California, and he served as a special strategist and consultant in the 1992, 1996, and 2008 presidential campaigns. He has also served as creative director and eventually chief operating officer for Allerton, Berman & Dean, a New York–based marketing and public-relations agency.
George's political blog It's About Time explores the themes covered in his book, I Dream of a New America. Together, the authors have written two previous books: Say Yes To Change: 25 Keys to Making Change Work for You and Authenticity: A Guide to Greater Meaning and Purpose at Work and at Home.
or
Not Currently Available for Direct Purchase