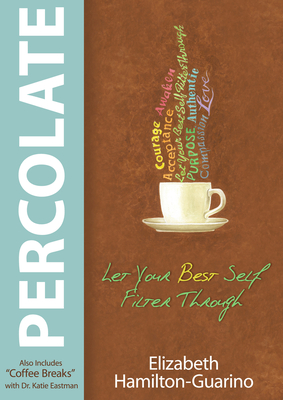 Percolate
Let Your Best Self Filter Through
Paperback

* Individual store prices may vary.
Description
"I highly recommend this book if you want to live more fully, laugh more heartily, and leave a lasting legacy for your loved ones!" — Noah St. John, best-selling author of The Book of AFFORMATIONS®, www.NoahStJohn.com Is there a voice inside of you that's urging you to make changes and seek a richer, more fulfilling life? Do you feel like you've been searching for something more meaningful, even if you don't know exactly what it is? Have no fear—Percolate will show you how to let your best self filter through and thrive!

In this empowering, heartwarming—and often humorous—book, Elizabeth Hamilton-Guarino will help you wake up to what's possible, allow your heart and mind to simmer with fresh ideas to achieve your goals and enhance your well-being, and enable your spirit and passion to rise to the top like the foam on your latte. Elizabeth will guide you through the Percolate ProcessTM, a nine-point plan she developed with Dr. Katie Eastman that teaches you how to implement positive changes to excel in every aspect of your life. It's simple, practical, and fun! Go ahead . . . grab a cup of your favorite joe, put your feet up, and start percolating. Ah, can't you just taste the inspiring brew as your most powerful thoughts blend together to bring the authentic, best you to the world?
Praise For Percolate: Let Your Best Self Filter Through…
"How can an aardvark and a platypus help you change your life? How can #WWBWD help you make better decisions? And what does brewing coffee have to do with being healthier and happier? For the answers to these and other life-altering questions, look no further than Percolate, Elizabeth Hamilton-Guarino's masterwork. I highly recommend this book if you want to live more fully, laugh more heartily, and leave a lasting legacy for your loved ones!"
— Noah St. John, best-selling author of The Book of AFFORMATIONS®, www.NoahStJohn.com

"For years I have enjoyed bringing clarity and joy into my life by taking time each morning to reflect on my blessings over a hot cup of coffee. Now I have a new favorite way to 'percolate,' thanks to this wonderful book! After following Elizabeth on The Best Ever Your Network, I am so happy that she has found a new way to share her inspirational message with us all!"
— Michelle Phillips, best-selling author of The Beauty Blueprint, www.MichellePhillips.com

"Elizabeth shows us how to follow our hearts and have the courage to really be ourselves—that we've been percolating all along."
— Gary Kobat, international authority on integrative well-being

"What amazing miracles have been percolating in your life that you might not realize, expect, or understand? Elizabeth and Katie will help you find out in Percolate. Enjoy the experience of letting your best self filter through!"
— Deb Scott, host of The Best People We Know Radio Show

"I love the Java Jive, and it loves me . . . and I really love Percolate, a bold and flavorful blend of higher wisdom, experience, and common sense. Drink deep of this rich brew, and you'll enjoy life to the fullest."
— Stephen Powers, Grammy Award–winning producer and co-founder of Agape Media International

"Percolate is a gift—a marvelous one—filled with intelligence and beauty."
— Michael McGlone, actor

"Courageously awaken and percolate your best self forward, and remember to put a fresh filter of unconditional love and light in each day."
— Debra Oakland, author and founder of Living in Courage

"If you can't wait to get your hands on another self-help book filled with dogma and strict directions, then Percolate isn't for you. However, if you've been searching for a book that can brilliantly guide you to guide yourself, search no more."
— Gabe Berman, author of Live Like a Fruit Fly

"Percolate is not another self-help book. It's an invitation to sit down with Elizabeth Hamilton-Guarino for a cup of java and a generous helping of real-life stories that just may shift something in your own life—it's that powerful."
— Lisa Tener, award-winning book coach

"Put down this book if you don't want to do the work."
— Fred Cuellar, Diamond Cutters International

"Just like the ingredients of an excellent cup of coffee, Percolate delivers the perfect blend of emotional energy, spiritual spice, and tremendously good taste. Elizabeth's bubbly attitude and fresh perspective will leave you thirsty for more!"
— Sue Jacques, The Civility CEO®

"It takes only moments to learn that Elizabeth Hamilton-Guarino has a gift for connecting with people. She shares her own personal experiences, and those of others, in a way that challenges each of us to become our best. The stories in Percolate continue to express her inspirational spirit and will simply make you feel good."
— Sarah C. Bazey, Mrs. International 2012 and president and CEO of Simplex Construction Supplies, Inc.

?"Percolate is the perfect title for Elizabeth's book because anyone who knows her personality will agree that she is like a constant, contagious, and inspirational jolt of caffeine. This is a woman who lives every minute of every day to the fullest. Elizabeth's cup runneth over, and if we can sip in just a little bit of her wisdom and experience, we should consider ourselves lucky!"
— Anthony Turk, Hollywood publicist

"Elizabeth's inspirational and caring spirit is reflected on each and every page of this book. A special thank-you to Elizabeth for guiding us on this journey to our best selves."
— Lisa Cocuzza, founder of It's a Glam Thing

"Are you happy? Are you living a life that you love? If not, Elizabeth Hamilton-Guarino is your new best friend, and it's time that you meet! In her own unique and delightful style, Elizabeth shows how to create your best-ever life, no matter what your personal circumstances."
— Gina Clowes, author of One of the Gang: Nurturing the Souls of Children with Food Allergies, www.AllergyMoms.com

"The No-Brainer Book of Big-Bean Changing! Your destiny reflects the choices you make. Your choices are the sum of your thinking, and your thoughts are infused with the meanings you attach to your words. So change the bean, change the brew: new meanings, new words, new thoughts, new choices, and—hey, presto—new destiny! Here's to you being your own barista, percolating a rich, far-reaching aroma, stepping off the wheel and into the world to leave a positive footprint."
— Alex Concorde, M.D., Ph.D., M.B.A., creator of CruXiom® New Mind-Body Wisdom and author of Life: Choice, Chance, or Circumstance

"Elizabeth Hamilton-Guarino is a master at connecting with people; and her warmth, storytelling charm, and sincerity fill every chapter. With her ingenious and inspirational methods, we can reach a better and fuller way to live and conduct our lives with more exuberance and with the results that we desire. This is a must-read book with activities and inspiration for anyone who wants to not only be adept at problem solving, but who is also ready for permanent change."
— Dr. Jo Anne White, professional transformational coach; radio host of Power Your Life; and author of Mastering the Art of Success, Joy, and Sense Your Way to Life Satisfaction

"Elizabeth Hamilton-Guarino is a mother, a businesswoman, and a fierce example of someone who takes life by the reins. She's a positive example and yet still learning. Percolate is a beautiful compilation of insights she has gained over her journey to hopefully inspire, awaken, and evoke your personal best."
— Brianna Brown, actress and founder of The New Hollywood Women's Goal Group

"Elizabeth's perseverance and courage amidst life's challenges should serve as encouragement for all. Through Percolate, she exemplifies the power of personal transformation and achieving balance in one's own well-being. As a long-standing MedicAlert member, Elizabeth can live her life to the fullest, knowing well that should she ever be in an emergency, her lifesaving information is just a call away."
— MedicAlert® Foundation

"Elizabeth Hamilton-Guarino's writing is just like her personality: ebullient, charming, and uplifting. Percolate is a joy to read."
— Frank Dell'Amore, president, Dell'Amore® Premium Marinara Sauce

"Percolate is compelling from the very first words. I couldn't put it down, and I was moved to tears within the first few pages. Give yourself the delicious joy of journeying through this inspiring book with Elizabeth Hamilton-Guarino."
— Margaret Paul, Ph.D., author of Inner Bonding, www.innerbonding.com

"If Betty White, Erma Bombeck, and Cheryl Richardson had a sister, it would most definitely be Elizabeth Hamilton-Guarino. Simply put, Percolate flows, and you'll love the feeling of expansion you get from reading it!"
— Pina De Rosa, Mindset Effectiveness Expert, www.PinaDeRosa.com

"I am thrilled that Elizabeth took the time to write Percolate. Nothing is more healing to your heart than laughter."
— Shea Vaughn, founder and CEO of SheaNetics® and Healthy Initiative, www.SheaNetics.com and www.HealthyInitiative.org

"A beautiful and, at the same time, no-holds-barred presentation of Elizabeth's philosophy of life. This book befits a delightful author who speaks with the directness and humanity of one who, through personal experience, knows what really matters in life. Elizabeth has touched the lives of many with her work, and with this book, she will touch yours, too."
— David Fraser, Ph.D., executive coach and author of Relationship Mastery: A Business Professional's Guide

"I believe that in life, what we give, we get back. Who we surround ourselves with is who we are and what we stand for. I believe there is a little bit of superhero in all of us. Percolate, written by my dear friend Elizabeth Hamilton-Guarino, is the Ultimate Superhero Self-Help Book for the Soul. I was truly inspired and deeply moved by the book. . . . This is a must-read and will give you strength, knowledge, and the courage to grab your own superhero cape and fly!"
— Amy Pauszek, indie film producer/publicist
Hay House Inc., 9781401942984, 328pp.
Publication Date: April 14, 2014
About the Author
Elizabeth Hamilton-Guarino, founder and CEO of The Best Ever You Network, understands firsthand the challenges that life can bring and has worked with thousands of people worldwide to illuminate their light within and help them live their best life. She has a degree in communications and broadcasting; is a life coach, food-allergy expert, and anaphylaxis survivor; and is the host of The Best Ever You Show. Elizabeth and her husband and four sons live in Maine. Visit her websites: www.BestEverYou.com and www.PercolateBook.com. Dr. Katie Eastman has been a change agent from a very young age. She holds a doctorate in clinical child psychology and a master's in social work, and she also did extensive study in theology. Directing these skills to work in hospice and palliative care, Dr. Katie has become a tireless advocate for valuing quality of life throughout an individual's life span and is the founder of Children's Palliative Care Community. Learn more about Dr. Katie and her work at www.DrKatieEastman.net.
or
Not Currently Available for Direct Purchase