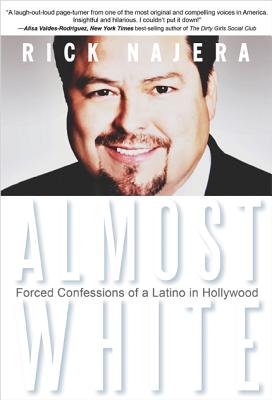 Almost White (Paperback)
Forced Confessions of a Latino in Hollywood
SmileyBooks, 9781401943127, 256pp.
Publication Date: September 16, 2013
* Individual store prices may vary.
Description
             In Almost White, award-winning writer, actor, director, comedian, playwright, and producer Rick Najera explores what it means to be a Latino against the ever-changing backdrop of his life as a Hollywood creative. A bona fide chameleon, this L.A.-based everyman is "Mexican hyphen American" or, as he wryly puts it, "almost white."
Recognized twice as one of the "100 Most Influential Hispanics" by Hispanic Business Magazine, Najera has worked with and mentored some of the biggest stars in Hollywood, including Cheech Marin, Jimmy Smits, Mario Lopez, Sofia Vergara, and many more. His funny, sad, and sometimes dark memoir tells his story of breaking into mainstream Hollywood, what it takes to struggle against typecasting, and how to challenge the pessimistic narrative that Latinos can only be disenfranchised victims in America.
            Driven by a satirical stream of consciousness, Najera's journey exposes universal lessons, from confronting the limits we place on our imaginations, to the need to take ownership of our stories instead of being mere performers in another's distorted vision, and the necessity of rising every day to press forward—no matter what. "In the end," says Najera, "perhaps it will be the power of the people and art, not politicians and politics, that will redefine the Latino American dream."
About the Author
     California-born Rick Najerais an award-winning actor, writer, director, and producer with credits in film, television, theater, and Broadway. He recently wrote, starred, and produced his second feature film, Taco Shop, and penned the holiday feature film, Nothing Like the Holidays, which won him a prestigious American Latino Media Arts (ALMA) Award. He has been nominated for two Writers Guild of America (WGA) Awards for his writing on MADtv, and honored twice by Hispanic Business Magazine as one of its "100 Most Influential Hispanics."
     Najera is one of three Latinos in the history of Broadway to write and star in his own show. He made his debut in 2005 with his award-winning sketch comedy show, Latinologues, which triumphed on Broadway and continued with over 15 years of performances, touring the nation to sold-out houses and standing ovations. It is the longest-running and only showcase of its kind for Latinos in America.
     He is sometimes compared to Tyler Perry, and seen as a literary giant who captures the warmth, humor, pain, triumph, and humility of the Latino experience. Early in his artistic career, Najera was inspired and mentored by Oscar-winning actress Whoopi Goldberg, Keenen Ivory Wayans, and Latino legend Cheech Marin. Realizing there were few roles for him to play, he took matters into his own hands and started writing his way into Hollywood, and has been writing for this new America for over two decades now. He was "Latin" at a time when most Latinos passed as white, and he was "Latino" when the local political movement demanded he be "Chicano." He wrote for the Latino community when the national climate demanded we focus on the "me," and made us laugh at a time when immigration policies were at their darkest. He has mentored and directed more than 150 actors, and paved the way for many Latinos that followed in his footsteps into the maddening world of Hollywood. He is undeniably one of the most sought-after comedic talents in the industry with one of the most powerful voices in the Latino world today.
     Najera and his lovely wife are the proud parents of three beautiful children, whom they are currently raising in the heart of Los Angeles. His work is dedicated to his family and his community.
Coverage from NPR