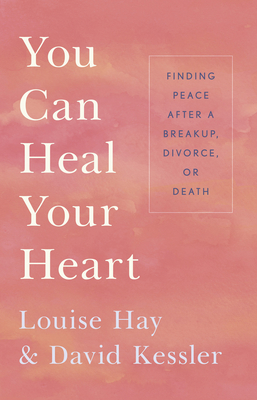 You Can Heal Your Heart (Paperback)
Finding Peace After a Breakup, Divorce, or Death
Hay House Inc., 9781401943882, 216pp.
Publication Date: February 2, 2015
Other Editions of This Title:
Paperback (1/1/1984)
Paperback (9/1/1999)
CD-Audio (12/1/2005)
Audio cassette (6/1/1995)
Mixed media product (10/1/2009)
Hardcover (2/4/2014)
CD-Audio (2/1/2003)
DVD video (1/1/2008)
Multiple copy pack (6/2/2014)
Paperback (1/1/2002)
DVD video (6/15/2006)
Paperback (11/1/2017)
VHS video (1/1/1992)
Audio cassette (1/1/1984)
Audio cassette (1/1/1988)
* Individual store prices may vary.
Description
In You Can Heal Your Heart, self-help luminary Louise Hay and renowned grief and loss expert David Kessler, the protégé of Elisabeth Kübler-Ross, have come together to start a conversation on healing grief. This remarkable book discusses the emotions that occur when a relationship leaves you brokenhearted, a marriage ends in divorce, or a loved one dies. It will also foster awareness and compassion, providing you with the courage to face many other types of losses and challenges, such as saying good-bye to a beloved pet, losing your job, coming to terms with a life-threatening illness or disease, and much more. With a perfect blend of Louise's teachings and affirmations on personal growth and transformation and David's many years of working with those in grief, this empowering book will inspire an extraordinary new way of thinking, bringing hope and fresh insights into your life and even your current and future relationships. You will not only learn how to help heal your grief, but you will also discover that, yes, you can heal your heart.
About the Author
Louise Hay was an inspirational teacher who educated millions since the 1984 publication of her bestseller You Can Heal Your Life, which has more than 50 million copies in print worldwide. Renowned for demonstrating the power of affirmations to bring about positive change, Louise was the author of more than 30 books for adults and children, including the bestsellers The Power Is Within You and Heal Your Body. In addition to her books, Louise produced numerous audio and video programs, card decks, online courses, and other resources for leading a healthy, joyous, and fulfilling life. Websites: www.louisehay.com, www.healyourlife.com, and www.facebook.com/louiselhay