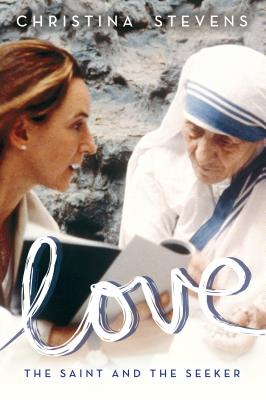 Love (Paperback)
The Saint and the Seeker
Hay House Inc., 9781401945916, 352pp.
Publication Date: September 10, 2014
* Individual store prices may vary.
Description
"God will write through you." Those were almost the last private words Mother Teresa spoke to acclaimed filmmaker Christina Stevens ~ urging her to share her story with the world. A similar calling had come months earlier, when Mother Teresa appeared to Christina in a dream, summoning her to India to film her message to the world. Without hesitation, she gathered a film crew and boarded a plane for Calcutta. Little did she know that when destiny beckons and a Saint-to-be takes your hand, startling events and profound discoveries are around every corner. Told through the lens of Christina's colorful youth, her mind-expanding adventure may prod you to recognize your own life's calling, and that will lead you to the most powerful and transformative place in the cosmos ~ love.
About the Author
Christina Stevens is an award-winning filmmaker, author, public speaker, and global environmental activist. Her belief that storytelling is inspiration for social change puts her on the leading edge of a new wave of global thought, speaking regularly at the United Nations on topics ranging from expanding consciousness to youth empowerment to solutions for global sustainability and happiness. Recipient of the Venice Film Festival's coveted Gold Lion, numerous Clios, NY Art Directors' and International Broadcasting Awards, Christina presently serves on the Special Projects Committee of the Directors' Guild of America and on the Board of Directors of Ted Turner's Captain Planet Foundation. Website: www.christinastevens.co
Praise For Love: The Saint and the Seeker…
"This book inspired me."
—Ted Turner, CNN founder, global visionary, and philanthropist

"I'm not one for spiritual reading, but I found Christina's journey fascinating and believable. As a matter of fact, I'm astral traveling my way to the bookstore right now."
—Chevy Chase

"A truly lovely and loving expression of life from a woman who is the absolute embodiment of her word. Thank you for being you, Christina."
—Rosario Dawson, actress and social and environmental entrepreneur

"A fascinating and inspiring story told with great honesty and lucidity."
—Duncan Campbell, correspondent for The Guardian, The Observer, and The British Journalism Review

"It's riveting! I was going to say mind-blowing, but I think mindexpanding is more accurate."
—Jayni Chase, founder of the Center for Environmental Education

"The words and the teachings of Mother Teresa have greatly impacted my life for many years. As a young girl, it was her teachings that awakened my spirit and later sparked my interest to become a nun. Mother Teresa . . . has profoundly influenced my spiritual foundation and is my philosophy for living. Like me, you have been led by the greatest gift of all—love. I can now add Love: The Saint and the Seeker as a contributing tome to my spiritual evolution and growth."
—Chaka Khan
or
Not Currently Available for Direct Purchase