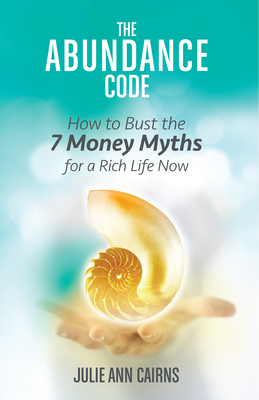 The Abundance Code
How to Bust the 7 Money Myths for a Rich Life Now
Paperback

* Individual store prices may vary.
Description
Are you frustrated in your efforts to succeed and create abundance in your life? Are you exasperated even though you may have set goals for yourself, gained knowledge, and worked hard? Are your financial dreams just not working out the way you'd like them to, or as fast as you'd like them to? Are you wondering what is standing in your way, preventing you from accessing the life of freedom you've been dreaming about?

Well, The Abundance Code is here to provide the answer you've been searching for…

There is a hidden yet crucial element to success and abundance that most people are unaware of—because that essential element is buried in their unconscious minds.

The Abundance Code is about how you can (and must!) rewrite your subconscious programming so that you can effortlessly achieve the rich life of abundance you deserve. Julie Ann Cairns takes you through the "7 Money Myths"—an extremely common set of subconscious barriers put up between you and your attainment of abundant wealth and freedom—and helps you banish them, so that your subconscious "code" can come into alignment with your conscious goals for financial freedom. If your underlying programming does not support your goals—and it probably doesn't—then Julie will show you how to get out of your own way and finally access the life you have always wanted.

You can be successful, you can be wealthy, and you can make money without expending physical effort or sacrificing too much of your precious time. You can become financially free with the luxury of choice. It's all possible for you, but conscious goals and knowledge are not enough to make this happen—you also need a set of supporting subconscious beliefs in order to ultimately prosper. If you have tried and tried to attain financial freedom but are still struggling, then this book will provide the breakthrough you've been waiting for.
Praise For The Abundance Code: How to Bust the 7 Money Myths for a Rich Life Now…
"Have you ever wondered why money and success seem to come so easily to some people when they have no more talent and no more skill than you, and they certainly don't work any harder than you do? Have you ever thought that you just didn't have the knack for making money or you just don't have 'money luck'? Here's the truth: Your level of success is a direct result of your mental programming about money and success—and you had that programming subconsciously installed years ago by parents, siblings, and friends. And if you're like most people, that money programming is holding you back. The Abundance Code will peel back the layers of that faulty mental programming, and it will install the new success source code that will unconsciously and automatically put more abundance in your life
— Jeff Walker, #1 New York Times best-selling author of Launch

"If you don't update your computer software, your computer will begin to run more slowly, have more problems, and eventually stop working altogether. It's the same with your money beliefs and unconscious wealth 'software.' The beliefs that got you to this point in your life are probably not the ones that will take you where you long to be. The Abundance Code is a chance to update your money and wealth beliefs and find financial freedom and more free time in your life. Julie Ann Cairns is a compassionate guide to rebooting your beliefs to reach your dream life
— Bill O'Hanlon, featured Oprah guest and author of more 35 books, including Do One Thing Different and The Change Your Life Book

"Julie Ann Cairns has written a book with a message I wish more intelligent, hardworking people would take to heart: Financial freedom and opportunity are within your reach. Beginning with her own personal story and incorporating insights from the fields of psychology, neuroscience, and economics, Julie Ann outlines detailed steps for overcoming the beliefs that keep so many from achieving their financial goals
— Ruth Buczynski, Ph.D., licensed psychologist and president, the National Institute for the Clinical Application of Behavioral Medicine

"The Abundance Code is like having a guide shine a light on the hidden gates that lock you out from living the life you've dreamed of. Not only that, Julie Ann Cairns also hands you a set of keys to open each door. The only question is, are you ready to walk through? If so, be prepared to read and think, 'I don't do that. Oh my goodness . . . yes, I do.' As each myth is explained, you'll start to realize the obstacles are in your mind. The Abundance Code shows you the way out to a stunning new world of abundance
— Victoria Labalme, international speaker, performing artist, and strategic performance coach
   
"This is the type of education that should be mandatory in the world's school systems. Julie Ann Cairns's The Abundance Code is not only filled with true secrets to educate you on how to become more abundant, but also with actionable steps to get you there. Reading it, I could feel my beliefs on wealth strengthen. This is a must-read for anyone looking to have more abundance in their life. I know it will go into my library as a book that I need to read again and again to maintain my beliefs, and to live The Abundance Code
— J. B. Glossinger, Ph.D., CEO and founder, Morning Coach   

"Julie Ann Cairns is not only one of the most insightful, heart-based entrepreneurs I've met in my 30 years in business, but she is also uniquely qualified to bust all of our myths about money. Her riches to rags and back again story is a unique journey—and thank goodness she has decided to share it with the world. There is a new life lesson on every page of this book. My own belief was that 'money changes everything' in so many contexts: conversations, business deals, personal interactions, and so on. But after reading The Abundance Code, I now see that it is a myth. It's not the money that changes everything; rather, it is how we get in touch in a profound way with our core desires, knowledge, and beliefs that has such an impact I will sleep better for the rest of my life having read this book and knowing that I am the one in full control when it comes to my relationship to money. By following Julie Ann's message closely and taking advantage of the hands-on tools in this book, I guarantee that you will have one epiphany after another as you, too, bust your own money myths
— Brian Kurtz, former executive vice president, Boardroom, Inc., and serial direct marketer 
 
"Our struggles with money have very little to do with anything happening out in the world and have everything to do with what we think about money. Not only was I raised on welfare, but worse, I grew up with a poverty mind-set that still haunts me to this day. Julie Ann's book, The Abundance Code, shines a bright light on the true cause of lack in our lives and shows us how to immediately turn things around so that we can see all of the riches of opportunity and abundance that we're swimming in every day. This book is a must-read for anyone who wants greater wealth and prosperity in their lives
— Christian Mickelsen, CEO, Future Force; coach; and author of Get Clients Today

"I grew up in an ex–Communist bloc country—Hungary—where we experienced firsthand the scarcity mind-set and constant lack of money and resources. My mom always told me that we could not get rich because we lived in very poor country on the wrong side of the world. Deep in my heart, I did not want to believe her. So I spent half of my adult life changing my inner beliefs (and my outer experience) from scarcity to abundance. And now thanks to The Abundance Code, I understand that this is not just a Hungarian affliction, but universal. Thank you, Julie Ann, for writing this extraordinary book! My fellow Hungarians need your wisdom to break out of the scarcity mind-set and create an abundant life
— Attila Pongor-Juhasz, CEO, Pongor Publishing
Hay House Inc., 9781401947286, 248pp.
Publication Date: September 22, 2015
About the Author
Julie Ann Cairns began her career as an economist and has been working in the finance and wealth-creation industry for over 25 years. She is the co-owner and managing director of Trading Pursuits Group, a financial-markets education company established in 2001. Julie has built her own personal wealth through investing in the stock market, real estate, and entrepreneurial ventures. She believes in inspiring others to transform themselves and their lives through practical financial wisdom supported by a wealthy mind-set so that they can achieve personal and financial freedom. Her mission is to empower people to live an abundant life free from limiting beliefs. Website: www.julieanncairns.com