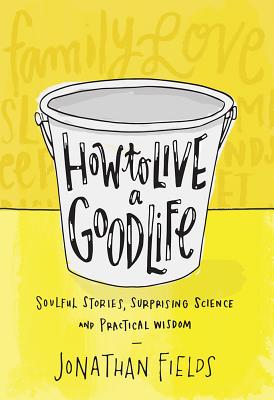 How to Live a Good Life (Hardcover)
Soulful Stories, Surprising Science, and Practical Wisdom
Hay House, Inc., 9781401948412, 256pp.
Publication Date: October 18, 2016
Other Editions of This Title:
Paperback (3/13/2018)
* Individual store prices may vary.
Description
Seriously . . . another book that tells you how to live a good life? Don't we have enough of those?
You'd think so. Yet, more people than ever are walking through life disconnected, disengaged, dissatisfied, mired in regret, declining health, and a near maniacal state of gut-wrenching autopilot busyness.
Whatever is out there isn't getting through. We don't know who to trust. We don't know what's real and what's fantasy. We don't know how and where to begin and we don't want to wade through another minute of advice that gives us hope, then saps our time and leaves us empty.
How to Live a Good Life is your antidote; a practical and provocative modern-day manual for the pursuit of a life well lived. No need for blind faith or surrender of intelligence; everything you'll discover is immediately actionable and subject to validation through your own experience.
Drawn from the intersection of science, spirituality, and the author's years-long quest to learn at the feet of masters from nearly every tradition and walk of life, this book offers a simple yet powerful model, the "Good Life Buckets"—spend 30 days filling your buckets and reclaiming your life.
Each day will bring a new, practical yet powerful idea, along with a specific exploration designed to rekindle deep, loving, and compassionate relationships; cultivate vitality, radiance, and graceful ease; and leave you feeling lit up by the way you contribute to the world, like you're doing the work you were put on the planet to do.
How to Live a Good Life is not just a book to be read; it's a path to possibility, to be walked, then lived.
About the Author
Jonathan Fields is a New York City dad, husband, award-winning author, media-producer, and entrepreneur. His last book, Uncertainty: Turning Fear and Doubt into Fuel for Brilliance, was named the top personal development book in 2011 by 800-CEO-READ. Jonathan's current focus, Good Life Project® (GLP), is a media and education venture and global movement that empowers people to live more engaged and connected lives. GLP media reaches over 350,000 people a month, across more than 150 countries, and its events and programs draw participants from around the world.
Praise For How to Live a Good Life: Soulful Stories, Surprising Science, and Practical Wisdom…
"We yearn for lives with more energy, enthusiasm, and connection—but where to start? The brilliant Jonathan Fields shows us, in this thought-provoking and action-provoking guide."—Gretchen Rubin, New York Times best-selling author of The Happiness Project and Better Than Before
"How to Live a Good Life delivers on the promise of its title, with a plethora of practical tips and in-depth exercises to help you become the best you can be. Get off autopilot. And get into a life of positive energy, meaningful relationships, and powerful purpose."—Daniel H. Pink, author of Drive and To Sell Is Human
"Many people over the years have considered the question of how to live a good life, but only one of them is Jonathan Fields. Drawn from Fields' wide-ranging intellectual sources and deeply kind heart, How to Live a Good Life is the one book you need to answer the one question that matters."—Susan Cain, co-founder of Quiet Revolution and New York Times best-selling author of Quiet
"'What is a good life?' has been a question asked by philosophers going back to the ancient Greeks. In How to Live a Good Life, Jonathan Fields provides simple, scientifically-validated daily prompts designed to help you find your own good life, and then live it."—Arianna Huffington, author of The Sleep Revolution and Thrive
"With an irresistible blend of soul, humility, and smarts, Jonathan Fields takes you by the hand down the path to the life you've longed for but didn't have a clue how to create—one full of meaning, connection, and fun."—Kris Carr, New York Times best-selling author of Crazy Sexy Diet and Crazy Sexy Kitchen
"Fields takes ideas from psychology, literature, and philosophy and blends them into a delicious fruit smoothie of wisdom. The book will help those who want to give their life more meaning, value, and deep breaths."—A.J. Jacobs, New York Times best-selling author of Drop Dead Healthy and My Life as an Experiment
"Fields does more than explain how a good life is possible—he gives point-by-point, actionable steps to make it so. It turns out that a good life, with all of its wonder, brilliance, and chaos, is far, far better than a perfect life. I can think of no wiser (or kinder) guide than Jonathan."—Susan Piver, author of Start Here Now: An Open-Hearted Guide to the Path and Practice of Meditation
"An incredibly wise, compassionate, and clear guide to living the good life. You'll immediately want to give it to your ten-year-younger self and say 'Read this right now!'"—Neil Pasricha, New York Times best-selling author of The Book of Awesome and The Happiness Equation
"We've all been there: going through life on autopilot, feeling 'fine' but no longer excited about the dreams we once held so close to our hearts. How to Live a Good Life will dust off those dreams, bringing them out of forgotten places and back into view."—Chris Guillebeau, New York Times best-selling author of Born for This and The $100 Startup
"How to Live a Good Life skillfully pairs potentiality with action. Fields' voice is refreshingly down-to-earth and his enthusiasm is contagious. My 'Good Life' buckets runneth over after reading this book!"—Kristen Noel, Editor-in-Chief, Best Self
"Fields is shining his spotlight on possibility—not lofty dreams, not success strategies, not motivational techniques—but possibility. Straightforward, dynamic, and written with the vitality he wants readers to discover in themselves, this book explains how anyone can live a more energetic, joyful, and passionate life."—Anna Jedrziewski, Retailing Insight
"Fields offers a simple yet powerful lens through which to look at your life and design your days—through connection, contribution, and vitality. His work is not just a wake-up call, it's a road map and a rousing reminder of your gifts"—Elena Brower, co-author of Art of Attention
"This book is a wake-up call to what really matters in life. Jonathan takes you on a journey where you'll pause, reflect, and prioritize what's most important to living a good life and then give you the simple tools to actually go live it."—Jadah Sellner, author of Simple Green Smoothies
or
Not Currently Available for Direct Purchase