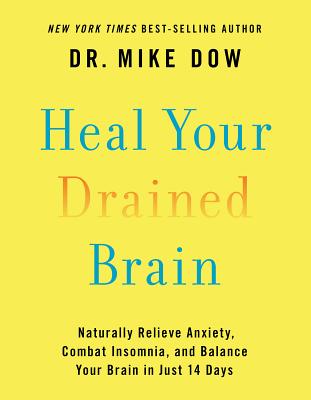 Heal Your Drained Brain
Naturally Relieve Anxiety, Combat Insomnia, and Balance Your Brain in Just 14 Days
Hardcover

* Individual store prices may vary.
Other Editions of This Title:
Paperback (9/3/2019)
Description
Are you anxious, frazzled, exhausted? Do you find yourself constantly worrying? Do you feel like you're "running on empty"? Do you have trouble sleeping? Like millions of people living today, your brain has become drained.These days, it seems like everything in our day-to-day lives—from our increasingly unpredictable world, the smart phones we can't stop using, to the processed foods we eat all day long, to the many hours we spend at our jobs—is setting us up to feel drained. The short-term effects of becoming drained are uncomfortable, but the long-term effects can be life-threatening. Left untreated, it can quadruple your risk of high blood pressure—the #1 cause of preventable death. Finding natural solutions to anxiety and insomnia is becoming increasingly vital as sleeping pills, antianxiety medications, and hospitalizations have seen a dramatic spike recently. More and more people are desperate to heal their drained brains.In his latest book, Dr. Mike Dow offers a 2-week plan designed to help you naturally balance your brain. He explains what drains modern brains, which groups are wired for it, and provides clinically proven tools to help you feel less drained. Dr. Mike offers nutritional tips, recipes, cognitive behavioral tools, supplements, breathing techniques, self-hypnosis, and mindfulness. Stress hormones like cortisol and adrenaline go down as feel-good neurotransmitters like GABA and serotonin rise."When you balance your brain, you experience countless rewards. You have more energy. You feel like yourself again. You sleep more soundly and wake up looking forward to the day ahead. . . . I can't wait for you to become the best version of yourself, and I look forward to the life you will create when you are no longer drained." — Dr. Mike Dow
Praise For Heal Your Drained Brain: Naturally Relieve Anxiety, Combat Insomnia, and Balance Your Brain in Just 14 Days…
"A smart, science-based way to heal anxiety and insomnia."
— Daniel Amen, M.D., New York Times best-selling author of The Brain Warrior's Way

"Wow, so many easy ways to heal our brains. What I love about this book is that I can start with just a couple of these tips and they will still make a big difference."
— Amy Newmark, Editor-in-Chief of Chicken Soup for the Soul

"Dr. Mike does a terrific job in helping people to understand ways they can use tools like mindfulness and breath work to feel better, eat better, sleep better, and live with a sense of peace."
— Dr. Susan Albers, New York Times best-selling author of 50 Ways to Soothe Yourself Without Food, Eating Mindfully, and Eat Q

"Mike does an incredible job in helping readers understand how the foods we eat are linked to conditions like excess stress, fatigue, and insomnia."
— Tana Amen, B.S.N., R.N., New York Times best-selling author of The Omni Diet

"Our brain is the conductor of the symphony of our body. Unwanted weight gain, insomnia, IBS, and even premature aging are profoundly influenced by our mental processes. This book is a powerful guide for anyone who wants to balance, heal, and optimize their life by using the power of the bra in."
— Anthony Youn, M.D., America's Holistic Plastic Surgeon and best-selling author of The Age Fix

"Spiking your blood sugar with processed foods doesn't just affect your waistline. In Heal Your Drained Brain, Mike will help you understand how they lead to conditions like fatigue, insomnia, and a n x iet y."
— JJ Virgin, New York Times best-selling author of The Virgin Dietand JJ Virgin's Sugar Impact Diet

"Chronic stress and anxiety affect us in profound and complex ways. Heal Your Drained Brain illuminates how these conditions link to digestive woes, high blood pressure, and even cancer. If you feel frazzled and fatigued, you need Mike's solutions ASAP! He reveals the pathway to a balanced brain and body, so that you can reclaim the energetic, joyful life we all c rave."
— Kristi Funk, M.D., founder of Pink Lotus Breast Center
Hay House Inc., 9781401952105, 368pp.
Publication Date: February 6, 2018
About the Author
Dr. Mike Dow is a psychotherapist, best-selling author, and brain health expert. Dr. Mike has hosted shows on TLC, E!, VH1, and Investigation Discovery. He is a recurring guest cohost on The Doctors, is one of The Dr. Oz Show's core experts, and has made regular appearances on Today, Good Morning America, The Talk, Rachael Ray, Wendy: The Wendy Williams Show, Dr. Drew on Call, The Meredith Vieira Show, Ricki Lake, Anderson Live, and Bethenny. He is also a contributor for the Huffington Post. Dr. Mike holds a master of science degree in marriage and family therapy and a doctorate in psychology. He is in private practice in Los Angeles. You can hear him weekly on Hay House Radio's The Dr. Mike Show. Website: drmikedow.com
or
Not Currently Available for Direct Purchase