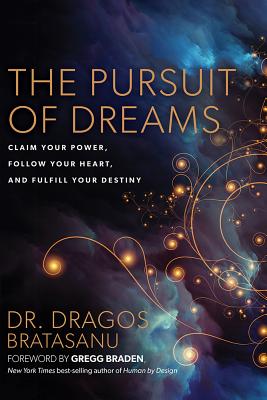 The Pursuit of Dreams
Claim Your Power, Follow Your Heart, and Fulfill Your Destiny
Paperback

* Individual store prices may vary.
Description
Everyone deserves to make their dreams a reality. What dreams of yours have you deferred for too long? It's all too common for our passions to fall by the wayside amongst the daily grind of ordinary living. Are you ready to take one step today toward answering your heart's calling and fulfilling your destiny?In The Pursuit of Dreams, Dr. Dragos shares the deeply personal experience of how he accomplished his dreams—including traveling to the North and South Poles without any money or connections—to show how you can reclaim your power and take charge of your life by listening to the voice of Truth. Travel the world with Dr. Dragos, go behind the scenes in Silicon Valley and NASA headquarters, and meet an eclectic cast of characters, including a Buddhist teacher, an Army veteran, a monk from Transylvania, an innovator at Google, and a NASA legend. Their fascinating conversations connect science, spirituality, and entrepreneurship to inspire and empower you to realize your dreams.
Praise For The Pursuit of Dreams: Claim Your Power, Follow Your Heart, and Fulfill Your Destiny…
"In this engaging book, Dr. Dragos Bratasanu shows us that science is the contemporary language of spirituality. Read it, and you will learn that everything in your life is an initiation to your true potential—and pain and suffering, when you apply your will to move through difficult experiences, is the birthing process of wisdom. The Pursuit of Dreams teaches us that when we trust ourselves and fully surrender, our dreams will come true."
— Dr. Joe Dispenza, New York Times best-selling author of Becoming Supernatural and You Are the Placebo

"The Pursuit of Dreams is the container for an elegant code. It's an advanced and consciousness-shifting 'mind-ware' that can breathe life into your greatest dreams and life's passions."
— Gregg Braden, New York Times best-selling author of Human by Design and The Divine Matrix

"Dr. Dragos stands for the hopeless, for the ones who starve for more meaning and purpose, for the rejected and the lonely. The genius of Dr. Dragos makes us clearly see that beyond our suffering, doubts, and problems that we face in life, there is a place in our hearts where courage, hope, and love still make our dreams possible."
— Guy Djoken, CEO and executive director of UNESCO Center for Peace

"[Dragos is] an exceptionally creative and forward-thinking fellow who knows how to . . . produce excellent results."
— Dr. Guy André Boy, NASA chief scientist, professor at Florida Institute of Technology, and fellow of the Academy of Air & Space

"Dragos is one of those gifted contributors who is practicing what he is preaching. Maybe this explains his instant transformative effect on his audiences."
— Cristian Onetiu, entrepreneur in the Forbes Top 500 and start-ups mentor
Hay House Inc., 9781401952600, 240pp.
Publication Date: April 10, 2018
About the Author
Dr. Dragos Bratasanu is an award-winning scientist, author, filmmaker, and speaker who has presented on five continents. He holds a Ph.D. in the field of satellite-based intelligence and has received several international awards for his scientific innovation. He now travels the world to empower people to make their dreams a reality anywhere they start.Dr. Dragos is the founder of Amazing University, a mobile app available on iOS and Android, with online courses that have inspired numerous people in 56 countries. His award-winning film, The Amazing You, was translated into 20 languages, and The Pursuit of Dreams docuseries is now available on his website and in stores. Websites: www.drdragos.com and Facebook.com/DrDragosB
or
Not Currently Available for Direct Purchase