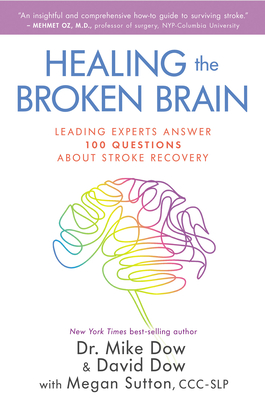 Healing the Broken Brain
Leading Experts Answer 100 Questions about Stroke Recovery
Paperback

* Individual store prices may vary.
Description
If you're holding this book, it likely means you or someone you love has had a stroke. Dealing with the onslaught of information about stroke can be confusing and overwhelming. And if you happen to be a stroke survivor with newly impaired language skills, it can be especially hard to comprehend everything your doctors, nurses, and specialists are telling you.This book consists of the top 100 questions that survivors and their families ask, with answers from the top physicians and therapists in the country. The questions start out basic but then get more specific to address different areas of recovery. And, for stroke survivors still struggling with reading comprehension, or for family members who are simply too tired to read long passages, there are Takeaway Pointsat the end of each chapter to help simplify everything.Includes answers to frequently asked questions such as:• What is a stroke, and who is at risk for one?• What is the best diet for a stroke survivor?• How does group therapy compare to individual therapy?• What should a stroke survivor look for in a therapist?• How long will it take to recover, and how can stroke survivors maximize their recovery?• What can someone do to prevent having another stroke?In this book, you'll gain a wealth of information, inspiration, advice, and support as you navigate your journey through stroke recovery.
Praise For Healing the Broken Brain: Leading Experts Answer 100 Questions about Stroke Recovery…
"An insightful and comprehensive how-to guide to surviving stroke."
— Mehmet Oz, M.D., professor of surgery, New York-Presbyterian/Columbia University Medical Center

"A groundbreaking guide for the prevention and treatment of stroke."
— Daniel Amen, M.D., New York Times best-selling author of The Brain Warrior's Way

"As the mother of a child who suffered a life-threatening brain injury, I know the power of combining hope with science in healing broken brains. With this book, Mike and David have provided that combination to all stroke survivors and the family members who believe in them."
— JJ Virgin, New York Times best-selling author of Miracle Mindset

"Dr. Mike and his brother David reveal a profound truth in this incredible book: spiritual growth and faith are required when faced with life's most difficult roadblocks."
— Gabrielle Bernstein, #1 New York Times best-selling author of The Universe Has Your Back

"Patience, mindfulness, and optimism are all tools needed in the recovery journey from a stroke. Dr. Mike Dow and his brother do an amazing job delivering a healthy dose of inspiration and insight. A must read for survivors and caregivers!"
— Dr. Susan Albers, New York Times best-selling author of 50 Ways to Soothe Yourself Without Food, Eating Mindfully, and Eat Q.

"This book should be required reading for all stroke survivors and the people who love them."
— Tana Amen, B.S.N., R.N., New York Times best-selling author of The Omni Diet

"This thorough and compassionate guide for families and survivors will provide relief, comfort, and wisdom to all who read it."
— Andrea Pennington, M.D., C.Ac., best-selling author of Daily Compassion Meditation

"As the family member of a stroke survivor, I know it takes a village of doctors to optimize recovery. Mike and David have delivered this village to all stroke survivors and their families through this life-changing book."
— Allison Arthur, M.D., Mayo Clinic-trained physician and co-owner of Sand Lake Dermatology Center
Hay House Inc., 9781401952655, 248pp.
Publication Date: May 2, 2017
About the Author
Dr. Mike Dow is a psychotherapist, best-selling author, and relationship expert. Dr. Mike appears regularly on The Dr. Oz Show and has appeared on Rachael Ray, Wendy Williams, Anderson, Bethenny, and The Talk. He is also a contributor for the Huffington Post. He holds a master of science degree in marriage and family therapy and a doctorate in psychology.David Dow is a stroke survivor and the co-founder of Aphasia Recovery Connection, a nonprofit helping other people with aphasia. His life story of healing and recovery has been featured in People magazine.Megan Sutton is a certified speech-language pathologist who holds a master of science degree in speech-language pathology from Boston University and B.A. in linguistics from Rutgers University. She has worked passionately with adults with acquired communication disorders for over 10 years, specializing in the assessment and treatment of aphasia. Website: http://drmikedow.com/