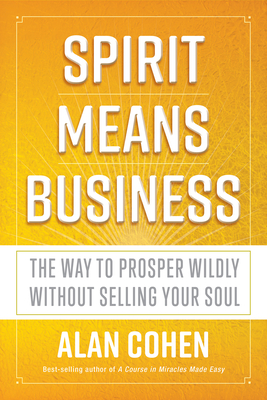 Spirit Means Business (Paperback)
The Way to Prosper Wildly without Selling Your Soul
Hay House Inc., 9781401953362, 256pp.
Publication Date: February 19, 2019
* Individual store prices may vary.
Description
Beloved author and teacher Alan Cohen (A Course in Miracles Made Easy) uses his insightful spin on spiritual wisdom to show that we can enjoy significant career and financial success and be true to our passion and soul's calling.

Can you create material success and keep your spirit alive? Is it possible to combine prosperity with purpose and passion? Can you sell your product without losing your soul?

Expert coach and beloved teacher Alan Cohen demonstrates the answer is yes. In Spirit Means Business, he identifies--and then dismantles--the 10 primary illusions that keep us from connecting spirituality and prosperity. To name a few:

• If you want to succeed, you have to suffer first

• There's only so much to go around

• Competition is healthy and necessary

• To do well in your work, you must give up your life

In each case, Alan shows us how to replace the illusion with a higher truth, using principles that always work when we apply them consciously. You'll learn from down-to-earth examples of individuals who have combined soul and success, and you'll find crisp, clear formulas to bridge the gaps and surmount the hurdles along the way.

Drawing on wisdom sources from the Tao Te Ching to A Course in Miracles, as well as stories from Alan's clients and his own life, this book will help you navigate a spiritually sound path to the success you desire.
About the Author
Alan Cohen is the author of 27 popular inspirational books, including A Course in Miracles Made Easy, The Dragon Doesn't Live Here Anymore, and the award-winning A Deep Breath of Life. He is a contributing writer for the Chicken Soup for the Soul series, and his books have been translated into 30 foreign languages. A respected keynoter and seminar leader, Alan has taught at Montclair State College, Omega Institute for Holistic Studies, and EnTheos Academy for Optimal Living. He has appeared on national radio and television and is a featured presenter in the award-winning documentary Finding Joe, celebrating the teachings of Joseph Campbell.
Praise For Spirit Means Business: The Way to Prosper Wildly without Selling Your Soul…
"Spirit Means Business is as fun to read as it is enlightening—essential reading for anyone committed to success in their personal and financial lives. Alan reminds us that we can both achieve the things that we want and be our authentic selves. The wisdom he has gathered from his own life experiences is the real deal."
— Ken Honda, Japan's all-time best-selling business author
​
"Spirit Means Business teaches us that our desire for spiritual evolution and business success are not in conflict with one another. As Alan Cohen beautifully reminds us, they're linked in a powerful way."
— Mike Robbins, author of Bring Your Whole Self to Work

"I love this book! Alan Cohen has gotten inside our heads, exposing that the illusions we've learned to relate to as truth about money, sacrifice, and success aren't rooted in reality at all! Spirit Means Business is a powerful and practical guide through the maze of these myths, providing a path to prosperity with integrity at the core."
— Nancy Levin, author of Worthy: Boost Your Self-Worth to Grow Your Net Worth

"Alan Cohen is one of my favorite teachers. He somehow manages to be both super mellow and super no-nonsense intense. In Spirit Means Business he helps us achieve what we all really want: how to prosper wildly (!) without selling our souls. I loved the book and highly recommend it—especially if you've wondered how to integrate your spirituality and your ambition. I believe the world needs more of us spiritually minded people to become much more economically empowered so we can change the world together. I think this book is a great resource for the movement."
— Brian Johnson, CEO of Optimize and creator of Philosophers' Notes

"In Spirit Means Business, Alan Cohen dispels the myths of hardship commonly associated with professional advancement and awakens the reader to an alternate reality where the air is fresher, the colors more brilliant, and the money flows. As an entrepreneur and business coach, who transformed from working very hard to succeeding with ease, I highly recommend this insightful book. It is a blessing for any entrepreneur or professional who feels the call for greater joy, passion, and profitability in their business. Listen to his immense wisdom, self-examine with his lessons, and watch your life become lighter and more joyful and for you to prosper with greater ease."
— Roberta Ross, president of www.SixFigureRealEstateCoach.com and host of Free Yourself to Success Podcast

"Spirit Means Business will be a welcome and inspiring answer to anyone seeking to integrate their spiritual path with their profession. I wholeheartedly resonate with the values, visions, and techniques that Alan Cohen suggests and encourage you to explore its far-reaching, healing, and effective ideas."
— Cheryl Esposito, founder and CEO, Alexsa Consulting and Alexsa Leadership Institute; author of In the Spirit of Leadership: A Vision into a Different Future