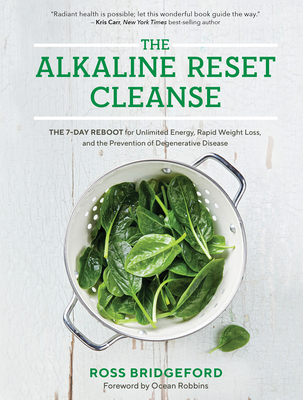 The Alkaline Reset Cleanse (Hardcover)
The 7-Day Reboot for Unlimited Energy, Rapid Weight Loss, and the Prevention of Degenerative Disease
Hay House Inc., 9781401955489
Publication Date: December 31, 2018
Other Editions of This Title:
Paperback (4/7/2020)
* Individual store prices may vary.
Description
A powerful seven-day, whole-food cleanse to completely reset and reboot your body, targeting the Five Master Systems (endocrine, digestive, immune, detoxification, and pH balancing).

Balance equals life. At base, our bodies make us fighters because the body will drop everything to make balance happen. So when we put one system out of balance, we are essentially making our body fight itself.

The Alkaline Reset Cleanse is a different way of thinking about the body and how we can rapidly replenish, heal, and reboot ourselves back to optimal health. The body's number-one goal is to maintain homeostasis and balance throughout our Five Master Systems: endocrine, immune, digestive, detoxification, and alkaline buffering (pH balancing). But through our dietary and lifestyle choices, we often put our body into a state of emergency. It is this constant state of emergency from which sickness and disease emerge.

For over 10 years, health coach Ross Bridgeford has guided thousands of people through his alkaline cleanse programs. In The Alkaline Reset Cleanse, he has distilled his program down to a straightforward and immediately manageable seven-day program, complete with shopping lists, recipes, and encouraging tips from those who have already succeeded.

We need to wipe the slate clean. We have to give the body the tools it needs to repair, replenish, rebuild, and thrive. With seven highly nourishing days filled with real, whole foods--specifically selected and planned to make it easy, enjoyable, and energizing--the Alkaline Reset Cleanse will help you to lose weight, restore your immunity, soothe digestion, and give you abundant health.
About the Author
Ross Bridgeford is the creator of the Alkaline Reset Cleanse, Anti-Inflammation Breakthrough, and Alkaline Anti-Cancer Solution, as well as the Alkaline Diet Recipe Book series.

He is a health coach with a passion to reverse every preventable disease on Earth. Ross been teaching and coaching people to their biggest health, energy and body goals for over 15 years and he knows how to keep it simple and make it easy, effortless, and delicious.

Through rossbridgeford.com, he has reached over two million people a year, and through his programs, books, and courses, Ross has directly impacted the lives of over 10,000 clients from 64 different countries.
Praise For The Alkaline Reset Cleanse: The 7-Day Reboot for Unlimited Energy, Rapid Weight Loss, and the Prevention of Degenerative Disease…
"The Alkaline Reset Cleanse is a new way of thinking about your body, and
it rocks. Ross will show you how to use the healing power of nature and your
intuition—no starving, no cravings, nothing like your typical 'detox.'
Radiant health is possible; let this wonderful book guide the way."
— Kris Carr, New York Times best-selling author
​
"The body is out of balance, the immune system is compromised, and the
resulting environment is perfect for disease creation. Ross Bridgeford addresses
both of these root causes (deficiency and toxicity) in his groundbreaking book,
The Alkaline Reset Cleanse. It's a simple, easy-to-follow guide that can teach you
how to take control of your own health and literally activate your body's selfhealing
mechanism and create an internal environment that fosters health
rather than sickness. My recommendation is simple: Buy this book."
— Ty Bollinger, documentary film producer and best-selling author of
The Truth about Cancer
​
"The Alkaline Reset Cleanse isn't just another diet or detox. It's a road
map for how to be super healthy and prosper at every level—physically,
mentally, and emotionally. This is the ultimate guide for super
vitality and total mind-body health."
— Jon Gabriel, creator of The Gabriel Method and best-selling author
of Visualization for Weight Loss
​
"I so enjoyed this book! It totally satisfied the science geek in me who
has been curious for years about the whole 'alkaline diet' thing. Whether
you're in a health crisis and desperately need an emergency overhaul or
are humming along and just want some powerful health hacks to add
to your regimen, The Alkaline Reset Cleanse will deliver the goods."
— Dr. Susan Peirce Thompson, New York Times best-selling author of Bright Line Eating
​
"Ross has done an amazing job of simplifying exactly how to raise our energy
without relying on quick fixes that leave us feeling even worse. Instead, he
provides a science-backed blueprint, helping you raise your energy naturally
and quickly so that you live your life to the fullest. Read this book, apply its
simple principles, and watch how your body and energy transform."
— Yuri Elkaim, New York Times best-selling author of All-Day Energy Diet
​
"There is no one I trust more when it comes to sharing alkaline science in an
approachable way than Ross Bridgeford. The Alkaline Reset Cleanse simplifies
the alkaline diet so that people can succeed. There are so many fad diets out
there, and they all lead to deprivation. That's not sustainable. Ross's approach
fits into anyone's life, no matter where they're starting from or what their
goals are. Ross is a master at showing you how to reset your health and make
progress toward a life filled with health and unstoppable energy!"
— Dr. Daryl Gioffre, founder and CEO, Gioffre Chiropractic Wellness Center,
Alkamind, and author of Get Off Your Acid
​
"Alkalizing your diet can completely transform your life,
and this book will show you how."
— James Colquhoun, filmmaker of Food Matters and
Hungry for Change and founder of FMTV