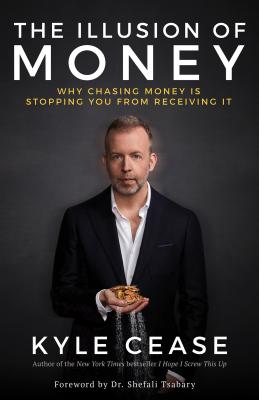 The Illusion of Money
Why Chasing Money Is Stopping You from Receiving It
Hardcover

* Individual store prices may vary.
Other Editions of This Title:
Paperback (8/16/2022)
MP3 CD (11/26/2019)
Description
New York Times best-selling author and comedian-turned-motivational speaker, Kyle Cease, shows how your obsession with money is actually preventing you from living the life of your dreams.

"I can't afford that." "Now's not the right time . . . I need to save up." "Quit my job? Are you nuts?!" 
Sound familiar? Money is one of the biggest excuses we make to not go after what we really want. Our fixation with money--the desire for more of it, and the fear of not having enough of it--is often really just a longing to feel safe. But this obsession with money is coming at a much bigger cost: our sanity, our creativity, our freedom, and our ability to step into our true power.

This book is about eliminating the need to seek safety through the illusion of money, and learning to see ourselves for the perfection that we are--so that we can bring our gifts to the world in an authentic way, and allow ourselves to receive massive, true abundance as a result.

Kyle Cease has heard excuses like the ones above countless times at his live events, and he has shown people how to completely break through them. In The Illusion of Money, he shares his own experiences as well as practical tools to help readers understand their ingrained beliefs and attachments to money, and how they can tap into our infinite assets and talents.

"After 25 years as a successful comedian, actor, transformational speaker, author and junior-league amateur bowler, I've experienced many times how chasing money is not an effective way to create an abundant and fulfilling life. The most alive I've ever felt was after I left my comedy career at its peak to become a transformational speaker. I left tons of guaranteed money and so-called security for a complete unknown. It was terrifying--but what was on the other side of that terror was a completely different life that is not only more abundant financially, but has more freedom, more ease, more passion, more impact and more joy." -- Kyle Cease
Praise For The Illusion of Money: Why Chasing Money Is Stopping You from Receiving It…
"The Illusion of Money is like a 'get out of jail free' Monopoly card when it comes to the subject of money. If you read this book while staying fully present and actually do the exercises and stick with it, you will discover a real space inside you . . . where prosperity comes from. And your life will be changed for good. Plus, you will laugh a lot because Kyle is a very funny person."
— Christiane Northrup, M.D., New York Times best-selling author of Women's Bodies, Women's Wisdom and Goddesses Never Age

"Kyle Cease is one of the most brilliant, hilarious, and masterful teachers today. His powerful work will help you get out of your own way so you can create a big, beautiful life beyond your wildest dreams. This book is a must-read (and read again!)."
— Kris Carr, # 1 New York Times best-selling author of Crazy Sexy Juice

"A master class on living the life you were born to live through loving yourself, filled with powerful metaphors, profound wisdom, and lots of great humor. Loved it!"
— Mike Dooley, New York Times best-selling author of Infinite Possibilities and A Beginner's Guide to the Universe

"What if the pursuit of money wasn't the root of all evil, but it didn't do anything to make you happy either? In this profound book, Kyle elegantly transforms one of the biggest sources of stress to a higher perspective where money is the by-product of learning to access the creative genius that lives inside each and every one of us."
— Dave Asprey, CEO and founder of Bulletproof and New York Times best-selling author of The Bulletproof Diet

"Physical resources and clock time may be limited, but imagination and creativity are potentially boundless. How can we fulfill that potential? How can we move beyond our self-imposed limitations to enter the realm of Leonardo DaVinci, Marie Curie, Nikola Tesla, and Elon Musk? Kyle Cease abides in this realm, and he shows how you can, too. With humor, wisdom, and verve, he guides us to discover the power of awareness, thereby liberating new dimensions of abundance, freedom, and joy. Bravo!"
— Michael J. Gelb, founder and president of The High Performance Learning Center and best-selling author of How to Think Like Leonardo da Vinci: Seven Steps to Genius Every Day

"In this motivational, insightful, must-read book, Cease helps us to release our obsession with money and shift to a place beyond money by tapping into our genius levels to discover that we are the source of everything, thus bringing our gifts and our passions to the world to receive massive, true abundance and live the life of our dreams."
— Anita Moorjani, New York Times best-selling author of Dying to Be Me and What If This Is Heaven

"The Illusion of Money is a total game changer. In it, Kyle helps people to overcome some of their biggest limiting beliefs around money and invites them to discover what true abundance really is."
— Lewis Howes, host of The School of Greatness podcast and New York Times best-selling author of The School of Greatness

"Kyle Cease raises the bar with this book; forcing us to think outside the box of social conditioning to redefine the way we prosper in a modern spiritual era."
— Matt Kahn, best-selling author of Everything Is Here to Help You

"With the rising consciousness of humanity that is upon us, it is paramount that we learn the skills of stewarding our lives with grace and inspired flow. We are meant to thrive on every level of life, and integrated financial abundance is crucial to our sustainable awakening, both personally and culturally. Kyle captures the spirit of money and the role its energy has in our evolution. True success and spirituality merge here in The Illusion of Money for the greater good. Thank you, Kyle. You are a gift."
— Dr. Sue Morter, founder and CEO of Morter Institute for BioEnergetics and best-selling author of The Energy Codes

"Kyle is going to cause you to laugh your way into understanding your potential that you have locked up in you. I'm going to introduce him to everyone I know."
— Bob Proctor, entrepreneur, speaker, coach, teacher of The Secret, and best-selling author of The ABCs of Success

"Kyle says things that are true but in a funny way. In some people that is called a comedian, but with him it's a heart-opening experience that rises your spirit and helps you remember the meaning of it all."
— Biet Simkin, spiritual teacher and author of Don't Just Sit There!
Hay House Inc., 9781401957445, 192pp.
Publication Date: September 3, 2019
About the Author
With two #1 Comedy Central specials to his credit, comedian and transformational speaker Kyle Cease is a New York Times, USA Today, and Wall Street Journal best-selling author, igniting sold-out audiences at his Evolving Out Loud events with his unique blend of comedy and personal evolution. He has been a guest speaker at thousands of colleges, summits, and Fortune 500 conferences, including Agape International, GATE, Revelations, the Sun Valley Wellness Festival, Sedona World Wisdom Days, and the Longevity Now Conference. In addition to leading his own live events, he has spoken with renowned teachers like Eckhart Tolle, Jim Carrey, Michael Beckwith, Tony Robbins, Deepak Chopra, Marianne Williamson, and Louie Anderson. He has made more than 100 various TV and movie appearances, including 10 Things I Hate About You, Not Another Teen Movie, Jimmy Kimmel Live, The Late Late Show with Craig Ferguson, Chelsea Lately, The Martin Short Show, Comics Unleashed, and numerous VH1 shows.
or
Not Currently Available for Direct Purchase