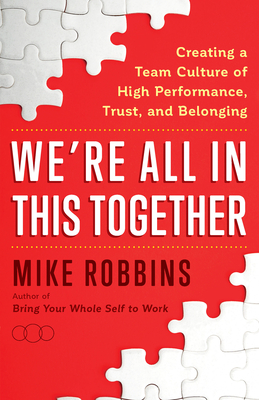 We're All in This Together
Creating a Team Culture of High Performance, Trust, and Belonging
Hardcover

* Individual store prices may vary.
Other Editions of This Title:
Paperback (3/22/2022)
Description
What makes a great team? Author, leadership expert, and corporate consultant looks at how businesses can build trust and achieve high performance.

Have you ever been on a team where the talent was strong, but the team wasn't very good? On the flip side, have you ever been on a team where not every single member was a rock star, but something about the team just worked?
We've all had these types of experiences. And yet, it can be difficult to understand what makes one team successful and another one not.
In this book, Mike Robbins dives deep into the ways great businesses build trust, collaborate, and operate at their peak level. As an expert in teamwork, leadership, and emotional intelligence, Mike draws on more than 20 years of experience working with top companies like Google and Microsoft, as well as his baseball career with the Kansas City Royals. And, while each team and organization have their own unique challenges, goals, and dynamics, there are some universal qualities that allow teams to truly come together and thrive.
The book's core principles include fostering an environment of psychological safety, fostering inclusion and belonging, addressing and navigating conflict, and maintaining a healthy balance of high expectations and empathy. Throughout, Mike shares powerful exercises and tools he's successfully utilized in the keynote speeches, group sessions and corporate retreats that he delivers, so that you and your team can communicate more authentically, give and receive feedback with skill, and create deeper connections.
We're All in This Together also features personal stories and interviews with high-level business leaders and thought leaders to provide insights into an ever-changing workplace culture.
***
"For us to do our best work, have the kind of impact we truly want to have, and unlock our full potential, we can't do it alone; we must to do it together. If you and your team are willing to do what it takes, you can build and sustain an incredibly strong culture of trust and performance, and accomplish remarkable things." -Mike Robbins
Praise For We're All in This Together: Creating a Team Culture of High Performance, Trust, and Belonging…
Mike Robbins shares tangible techniques that leaders and teams can use to excel, backs up his ideas with important research, and provides a road map for creating a team environment of personal connection and optimal performance. - Tom Rath, New York Times best-selling co-author of How Full is Your Bucket?

I love this book as an inspiration every day to self-reflect on our culture. - Dheeraj Pandey, CEO of Nutanix

The tools Mike Robbins offers in We're All in This Together give you and your team the skills you need to love your work-and working together. - Kim Scott, New York Times best-selling author of Radical Candor

Mike Robbins has been a great partner for me and our team at Deltek. The important ideas he shares in We're All in This Together have had a positive impact on our team, our customers, and our culture. - Mike Corkery, President and CEO of Deltek

We're All in This Together is a book that will help you and your team come together and perform at the highest level. - Brodie Van Wagenen, Executive Vice President and General Manager of the New York Mets

The powerful ideas that Mike Robbins shares in We're All in This Together have inspired me and my team at the NBA." - Amy Brooks, President, Team Marketing and Business Operations and Chief Innovation Officer of the NBA

In We're All in This Together, Mike Robbins gives you and your team ways to build trust and an authentic sense of belonging. - Chip Conley, author of Wisdom@Work and Strategic Advisor for Hospitality and Leadership at Airbnb

The concepts Mike teaches in We're All in This Together have had a profound impact on me, our leaders, and our entire company. - Jason Hughes, Chairman, CEO, and Owner of Hughes Marino
Hay House Business, 9781401958138, 208pp.
Publication Date: March 30, 2020
About the Author
Mike Robbins is the author of Bring Your Whole Self to Work; Nothing Changes Until You Do; Be Yourself, Everyone Else Is Already Taken; and Focus on the Good Stuff, which have been translated into 15 languages. A sought-after speaker, consultant, and thought leader, Mike works with a diverse group of clients throughout the world, including Google, Wells Fargo, Microsoft, Gap, and the Oakland A's. Mike is a regular contributor to Forbes and the host of a weekly podcast called We're All in This Together. His work has been featured in The Harvard Business Review, The New York Times, Fast Company, The Wall Street Journal, and The Economist, as well as on NPR and ABC News, among many others.
or
Not Currently Available for Direct Purchase