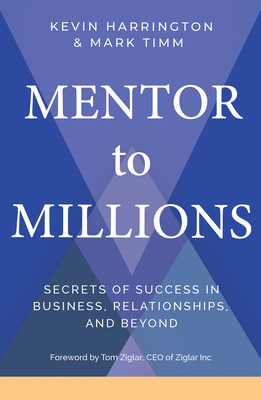 Mentor to Millions
Secrets of Success in Business, Relationships, and Beyond
Hardcover

* Individual store prices may vary.
Other Editions of This Title:
Paperback (11/1/2022)
Description
Kevin Harrington, one of the original "sharks" of the TV hit Shark Tank, and serial entrepreneur Mark Timm take you on a journey that radically redefines what it means to truly succeed--at work, at home, and in every area of life.

On one of the best days of his life as an entrepreneur, Mark Timm found himself sitting in his car at the end of his driveway. In just a minute he would go into the house and greet his wife and children. But as he basked in the success he'd just had, he also had to face a surprising realization: he didn't really want to go home.

Mark knew that once he stepped into the happy chaos of his family, the euphoria of the day would evaporate. His work life and his home life might as well have been two different worlds. And at that moment, he acknowledged--as he puts it--that "my businesses were getting my first and my best, while my family got my last and my least."

Mentor to Millions charts Mark's journey from that pivotal moment to a whole new understanding of how work, life, and relationships can coexist and thrive together. His guide through this journey: his accomplished mentor, Kevin Harrington, one of the original "sharks" from Shark Tank, who shares amazing stories and imparts invaluable wisdom about how to win in business and in every area of life.

This deeply personal, easy-to-follow book invites you to join Mark and Kevin on the journey. Every page pulls back the curtain on entrepreneurship at the highest level, revealing priceless business lessons--which lead to the biggest lesson of all: combining the best of business, family, and personal life. If you're succeeding in business, struggling, or just starting out, and want your life at home to be what you've always dreamed it can be, this is the lesson you need to learn: the most valuable business you'll ever own, work for, or be a part of isn't the business you go to every day, it's the one you go home to.
Praise For Mentor to Millions: Secrets of Success in Business, Relationships, and Beyond…
"Failure is not fatal. We can choose to stand on top of our pile of failures or be buried by them. Mark Timm and Kevin Harrington . . . show us the mind-set, focus, and action plan we need to turn personal and professional failure into exponential success."
- Dave Ramsey, best-selling author and radio host 

"Put your seat belt on and get ready for an incredible ride. . . . Inspiring, grounded, and immeasurably practical."
- Les Parrott, Ph.D., #1 New York Times best-selling author and founder of BetterLove.com

"Undeniably powerful, insightful, and vulnerable approach to doing life and business. A must-read!"
- Dan Sullivan, Strategic Coach 

"A powerful resource [to] regain your work-life balance and experience the life you desire."
- Michael Hyatt, New York Times and Wall Street Journal best-selling author

"Mentor to Millions is like having Kevin as your personal mentor!"
- Barbara Corcoran, businesswoman and Shark from Shark Tank 

"What would you do differently if your life actually powered your business? Read Mentor to Millions now to learn how what you do when you're not working will grow your success at work-and everywhere else."
- Dave Asprey, founder, Bulletproof 360

"For 30 years Kevin Harrington has been bringing his entrepreneurial message to students at Babson College-the global leader in entrepreneurship education. Kevin and Mark Timm have provided a holistic path for this success. . . . An inspiring read for entrepreneurs everywhere."
- Stephen Spinelli, Jr., Ph.D., President of Babson College, founder of Jiffy Lube, and chairman of Planet Fitness
Hay House Business, 9781401959104, 208pp.
Publication Date: September 22, 2020
About the Author
As an original "shark" on the hit TV show Shark Tank, the creator of the infomercial, pioneer of the As Seen on TV brand, and co-founding board member of the Entrepreneur's Organization, Kevin Harrington has pushed past all the questions and excuses to repeatedly enjoy 100X success. His legendary work behind the scenes of business ventures has produced more than $5 billion in global sales, the launch of more than 500 products, and the making of dozens of millionaires. He's launched massively successful products like The Food Saver, Ginsu Knives, The Great Wok of China, The Flying Lure, and many more. He has worked with amazing celebrities turned entrepreneurs including Billie Mays, Tony Little, Jack LaLanne, and George Foreman. Kevin's been called the Entrepreneur's Entrepreneur and the Entrepreneur Answer Man, because he knows the challenges unique to start-ups and has a special passion for helping entrepreneurs succeed.

Mark Timm has been a serial entrepreneur and exponential-thinking practitioner for two decades. He has started more than a dozen companies, several of which have multiplied and been sold. He has spoken professionally for more than 25 years, giving thousands of speeches to millions of people around the globe. Today, Mark believes his most important role is CEO of the most valuable business in the world: his family of six young adults with his wife, Ann.
or
Not Currently Available for Direct Purchase