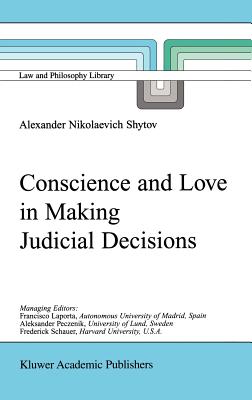 Conscience and Love in Making Judicial Decisions (Law and Philosophy Library #54) (Hardcover)
Springer, 9781402001680, 246pp.
Publication Date: November 30, 2001
Other Editions of This Title:
Paperback (10/28/2010)
* Individual store prices may vary.
Description
THE CONSCIENCE OF JUDGES AND APPLICA nON OF LEGAL RULES The book is devoted to the problem of the influence of moral judgements on the result of judicial decision-making in the process of application of the established (positive) law. It is the conscience of judges that takes the central place in the research. Conscience is understood in the meaning developed in the theory of Thomas Aquinas as the complex capacity of the human being to make moral judgements which represent acts of reason on the question of what is right or wrong in a particular situation. The reason why we need a theory of conscience in making judicial decisions lies in the nature of the positive law itself. On the one hand, there is an intrinsic conflict between the law as the body of rigid rules and the law as an living experience of those who are involved in social relationships. This conflict particularly finds its expression in the collision of strict justice and equity. The idea of equity does not reject the importance of rules in legal life. What is rejected is an idolatrous attitude to the rules when the uniqueness of a human being, his well- being and happiness are disregarded and sacrificed in order to fulfil the observance of the rules. The rules themselves are neither good or bad. What makes them good or bad is their application.