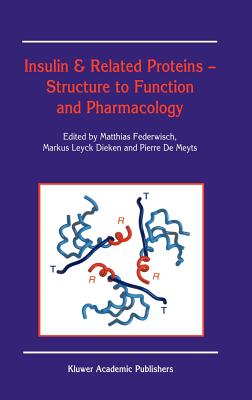 Insulin & Related Proteins -- Structure to Function and Pharmacology (Hardcover)
Springer, 9781402006555, 252pp.
Publication Date: May 31, 2002
* Individual store prices may vary.
Description
This book contains contributions presented at the last of the Alcuin Symposia, held in April 2000, as a Festschrift to honour Prof. Axel Wollmer on the occasion of his retirement from the Rheinisch-Westf lische Technische Hochschule (RWTH) Aachen. The Alcuin Symposia were initially held alternatively in York and Aachen, in recent years in Aachen only, as joint workshops on insulin between the groups of Prof. Guy Dodson in York and the groups of Profs Dietrich Brandenburg and Axel Wollmer in Aachen. The Symposium was named after Alcuin, an Anglo-Latin poet, educator and cleric from York, who was invited to join the court of Charlemagne at Aachen. Alcuin's first 50 years were spent in Yorkshire, were he was first a pupil, later headmaster of the cathedral school of York, the most renowned of its day. Charlemagne was gathering at Aachen the leading Irish, English and Italian scholars of the age. Alcuin was appointed head of the Palatine school, where Charlemagne himself, his family, his friends, and his friends's sons were taught. Alcuin introduced the traditions of Anglo-Saxon humanism into Western Europe and was the foremost scholar of the revival of learning known as the Carolingian Renaissance. He also promoted the use of the beautiful Carolingian minuscule script, the ancestor of modern Roman typefaces.