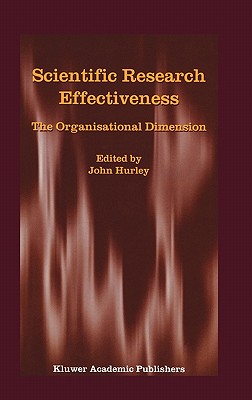 Scientific Research Effectiveness (Hardcover)
The Organisational Dimension
Springer, 9781402010545, 222pp.
Publication Date: April 30, 2003
Other Editions of This Title:
Paperback (11/5/2012)
* Individual store prices may vary.
Description
Baruch S. Blumberg NASA Astrobiology Institute, Ames Research Center, Moffett Field, CA, USA Scientific research is one of the major human enterprises. Many governments are convinced that research and its products provide the means to enrich an economic life that is no longer sustained by traditional manufacturing and service industries. The public has a high expectation of medical research and many are convinced that, with the expenditure of sufficient money, all human diseases can be conquered; they look forward to a long and disease free life. There is also a great interest in many sectors of society to understand nature not only in order to "control" it or learn how best to cope with its uncertainties, but to accumulate knowledge for its own sake. Finally, scientific research contributes significantly to the intellectual stores of humanity and provides an important process to explore the most profound questions of life. Modem science is rarely a solitary occupation. It requires heavy investments in equipment, supplies, buildings and field capabilities. Scientists need a band of fellow explorers with whom to share the adventure, discuss experiments and results, and, perhaps most importantly, enable the testing and retesting of their hypotheses by themselves and by others. This was certainly the case in my own research which led eventually to the discovery of the Hepatitis B virus, and later to the vaccine for it. Scientific training is very specialized, whereas the solutions to problems transcend narrow disciplinary borders.