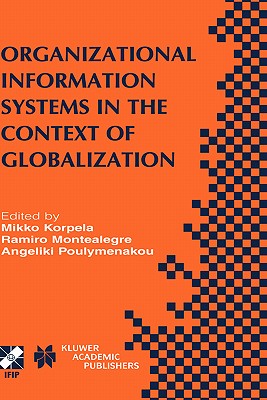 Organizational Information Systems in the Context of Globalization (Hardcover)
Ifip Tc8 & Tc9 / Wg8.2 & Wg9.4 Working Conference on Information Systems Perspecti (IFIP Advances in Information and Communication Technology #126)
Springer, 9781402074882, 466pp.
Publication Date: May 31, 2003
Other Editions of This Title:
Paperback (2/10/2013)
* Individual store prices may vary.
Description
In this book, the context and process of globalization are understood as a complex web of increasingly deepening interrelationships among countries, organizations, social groups, and individuals. Information and communication technologies (ICTs) are seen as a vital part of the globalization agenda.
As technology becomes more pervasive and capable, there is a danger that the debate will remain anchored on techno-centric issues such as what to use the technology for, or how to make it work. Organizational Information Systems in the Context of Globalization provides rich insights on how global technology in action must be considered in view of local expectations and constraints. This is particularly relevant in the current discourse relating technology to development - the theme permeating most of the works included in this volume.
Research reported in this book achieves a number of important objectives. It illustrates local ICT utilization and policy development contexts that are not as frequently examined as North American and Western European corporate contexts. Empirical research reported in this volume has been conducted in the following national, regional and local contexts: Australia (including aboriginal communities), Brazil, China, Ecuador, Egypt, India, Ireland, Jordan, Korea, Malaysia, Maldives, Mozambique, New Zealand, Peru, Portugal, Russia, Scandinavia, Spain, South Africa, UK and USA.
Organizational Information Systems in the Context of Globalization exemplifies the role of social theory in approaching ICT utilization challenges in a globalization context. The debates raised on implementation, policy, organizations and organizing, and social dynamics, increase our awareness of the diversity of perspectives we need to delve into when framing the role of ICTs in the globalization agenda. The equal representation of managerial and non-managerial decision making contexts alerts us to the fact that ICTs should not be considered only as a corporate wealth creation prerogative.
This book contains the selected proceedings of the Working Conference on Information Systems Perspectives and Challenges in the Context of Globalization, sponsored by the International Federation for Information Processing (IFIP) and held in Athens, Greece in June 2003.
Organizational Information Systems in the Context of Globalization is essential reading for researchers and practitioners working in information systems, management, social and organizational studies, and development studies.