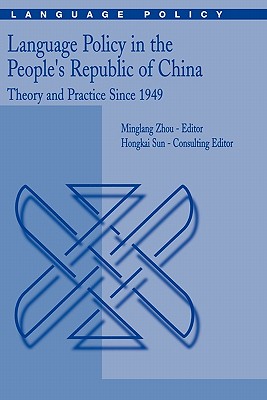 Language Policy in the People's Republic of China
Theory and Practice Since 1949
Hardcover

* Individual store prices may vary.
Other Editions of This Title:
Paperback (10/3/2013)
Description
Language matters in China. It is about power, identity, opportunities, and, above all, passion and nationalism. During the past five decades China's language engineering projects transformed its linguistic landscape, affecting over one billion people's lives, including both the majority and minority populations. The Han majority have been juggling between their home vernaculars and the official speech, Putonghua - a speech of no native speakers - and reading their way through a labyrinth of the traditional, simplified, and Pinyin (Roman) scripts. Moreover, the various minority groups have been struggling between their native languages and Chinese, maintaining the former for their heritages and identities and learning the latter for quality education and socioeconomic advancement.
The contributors of this volume provide the first comprehensive scrutiny of this sweeping linguistic revolution from three unique perspectives. First, outside scholars critically question the parities between constitutional rights and actual practices and between policies and outcomes. Second, inside policy practitioners review their own project involvements and inside politics, pondering over missteps, undergoing soul-searching, and theorizing their personal experiences. Third, scholars of minority origin give inside views of policy implementations and challenges in their home communities. The volume sheds light on the complexity of language policy making and implementing as well as on the politics and ideology of language in contemporary China.
Springer, 9781402080388, 345pp.
Publication Date: September 16, 2004