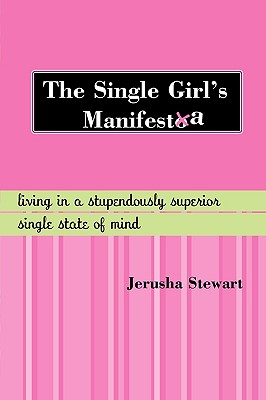 The Single Girl's Manifesta (Paperback)
Living in a Stupendously Superior Single State of Mind
Casablanca, 9781402205033, 261pp.
Publication Date: November 1, 2005
* Individual store prices may vary.
Description
Ever wonder why you're the last single girl among all your married girlfriends? Do you have a gorgeous, talented, witty daughter, sister or best friend who just can't seem to find the perfect mate? Don't stress, you - and that fabulous woman you know - have something in common with 96 million other Americans: You're single
Let's face it: if you're single, it's because you CHOOSE to be, not because you're DOOMED to be. The Single Girl's Manifesta is glorious vindication for those who are not held captive - literally or figuratively - by the tyranny of the "We."
After author Jerusha Stewart found herself wondering about her own single status, she interviewed hundreds of compatriots across the country about their choice to remain single. Jerusha leaves no stone unturned as she explores the pleasures of single living. You may be the last single girl in your crowd, but you've saved the best for last
The Single Girl's Manifesta lets readers in on how to: Value being single Not be daunted by dating mishaps Manage life's milestones when you're unmarried Banish the fear of buying a home, dining out, or traipsing 'round the world solo Embrace the inner truths that lead you to finally answer the question "Why am I single?"
This outlandish ode to singles is packed with engaging quizzes, revitalizing rituals, sizzling love letters and a killer recipe for Morning-After French Toast. It's for the woman who has it all, without having to tie the knot. So the next time you and your girlfriends are about to indulge in another "poor, single me" conversation, open this book instead and jumpstart the sensational solo life you deserve.
About the Author
Jerusha Stewart writes an online bi-weekly column called "Singles & Doubles." She has a degree in international relations and law, and lives in San Francisco, California.
or
Not Currently Available for Direct Purchase