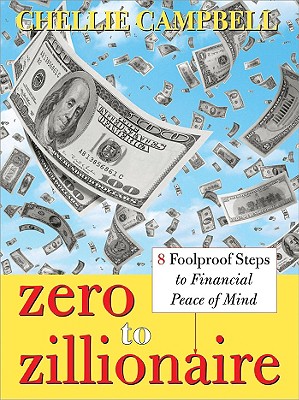 Zero to Zillionaire
8 Foolproof Steps to Financial Peace of Mind
Paperback

* Individual store prices may vary.
Description
Zero to Zillionaire is a scale. We are all on that scale somewhere-some of us are drowning near Zero and some of us are riding the crest of the Zillionaire wave. Why is that? Why do some people sink to the bottom of the ocean, some people float to the peak at the top, and the majority tread water in the middle? After accident of birth places a person somewhere on the scale, what is it that makes some stay where they were born, and others rise on the scale? Or fall off the scale? Why do a lot of wealthy people have no spirit and why are a lot of spiritual people are broke? This book will help you understand your place on the scale and how to move up the food chain. You will learn how to implement the 8 successful steps: 1) Daily routines change your mindset and your future
2) Figure out what you really want
3) Take action-how to bring home the zillions
4) Surround yourself with people who make you rich and happy
5) Keep score in the money game
6) Your zillionaire time frame starts now
7) Make success out of failure
8) Lighten up-the whole idea is to have a great life You can qualify for Zillionaire status, with wealth in your work, happiness in your home, and a balance between the two. Follow these principles and you will have a balanced checkbook, a balanced schedule, a balanced spirit, and a balanced life. You can be a Zillionaire: someone who has a zillion dreams, is taking a zillion actions to make them come true, makes as many zillions of dollars as possible, has a zillion friends, is doing a zillion good deeds, taking a zillion naps and a zillion vacations, and having a zillion adventures in a long, fun-filled life

Sourcebooks, 9781402206191, 272pp.
Publication Date: April 1, 2006
About the Author
Chellie Campbell is a former musical comedy actress, is past owner of a business management firm, and has been a professional speaker for over fifteen years. She is the author of The Wealthy Spirit: Daily Affirmations for Financial Stress Reduction (Sourcebooks, 2002) which was chosen as a book-of-the-week on the Dr. Laura Schlessinger radio show and a GlobalNet book-of-the-month selection. In How to Run Your Business Like a Girl (Adams Media, 2005) by Elizabeth Cogswell Baskin, Chellie is one of three entrepreneurs featured in every chapter. She is also prominently quoted as a financial expert in Money, A Memoir: Women, Emotions, and Cash by Liz Perle (Henry Holt, 2006) and has been quoted in Good Housekeeping, Lifetime, Essence, Woman's World, and more than fifteen popular books. She created and teaches the Financial Stress Reduction Workshops (R) in the Los Angeles area and gives programs throughout the country. She can be reached through her web site www.chellie.com.
or
Not Currently Available for Direct Purchase