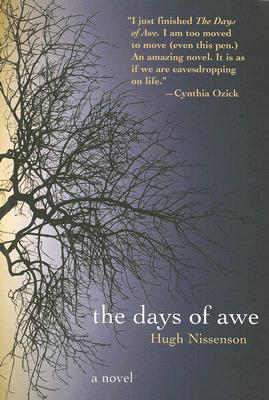 The Days of Awe (Paperback)
Sourcebooks Landmark, 9781402207563, 308pp.
Publication Date: October 1, 2007
* Individual store prices may vary.
Description
Washington Post Best Books of 2005.
Philadelphia Inquirer Top 10 Fiction Pick, Fall 2005
At age 67, Artie Rubin finds his world shaken to its foundation by events he cannot control. His tale his both universal and unique; it is the story of the end of things and their beginnings, of friends and family, of connections lost and of the endurance of love. The Days of Awe is a breathtaking call to living.
" Nissenson] more than holds his own in the arena of gritty, all-too-present-day realism, brilliantly conveying his characters' anxiety and suffering, their conflicting ideas, emotions and beliefs, and the love for one another that makes them so vulnerable but also lends enduring value to their menaced lives."--Wall Street Journal
"Solid character writing and attention to the details of daily life make the September 11 material well motivated; as characters continue to worry, kibitz, philosophize and complain, one feels that they have a real sense of the stakes."--Publishers Weekly
"A moving, thought-provoking exploration of coming to grips with mortality."--Booklist
"I just finished The Days of Awe. I am too moved to move. (Even this pen.) An amazing novel. It is as if we are eavesdropping on life." --Cynthia Ozick
About the Author
Hugh Nissenson is the author of eight books, including the recent illustrated novel The Song of the Earth, which received a number of superb reviews in the New Yorker, the Washington Post and the Los Angeles Times among others. His previous novel The Tree of Life was a finalist for the National Book Award and the Pen-Faulkner Award in 1985. He lives in New York City.
The Days of Awe, like all of Nissenson's work, is about the religious impulse, the religious experience, and the ultimate question: is there a loving God who concerns Himself with human affairs? Which two characters–one Jewish and the other Christian–who are in a sense doubles, wrestle with their belief in God? As examples of contemporary New Yorkers, they each seek psychological help to assuage their anguish. Why? Does either of them resolve his spiritual struggle? Which character, at the end, is left grappling with God?
Artie Rubin is the novel's main protagonist. He begins as a secular Jew who is obsessed with pagan mythology. As the novel progresses, who is the deity to whom he turns? Is there an irony inherent in this development?
The Days of Awe is first and foremost a love story. Artie and Johanna have been happily married for nearly forty years. Her heart attack precipitates a spiritual crisis in Artie. How does Johanna respond to the catastrophe? In what way is her appreciation of ordinary life deepened by her experience of dying and, in a sense, being reborn? How does her fixation on the words of the Navaho Ceremonial dramatize her new vision of life?
Artie's final vision of life and death reflects Johanna's. How is it expressed? By what action? By what artistic creation?
Chris, Artie's son-in-law, objects to having his son circumcised. Why? How does Artie feel about this? Why? Do you think that child will be raised as a Jew? How will Artie respond?
Rabbi Klugman is the truly observant Jew in the novel. How does he express his love for God? And his compassion for his fellow human beings? How do his religious beliefs affect his politics, as expressed in his sermons?
How does the Holocaust influence Artie's attitude toward his people? What is the significance of the destiny of Jacob Fuchs? How do his poems reflect his religious beliefs?
What role do the current policies of the state of Israel play in the novel? How are the young Israelis living in America portrayed?
As his first name indicates, the protagonist is an artist. How does Nissenson dramatize Artie's talent to make words into pictures and a picture from words?
What thematic purpose do these examples of Artie's artistic creations serve? Why is he concerned about creating a digital image of Odin? How does this dramatize his growing obsession with Orthodox Judaism?
What thematic purpose is served by the poem at the end of the book? How does it dramatize Artie's final vision about life and death?
or
Not Currently Available for Direct Purchase