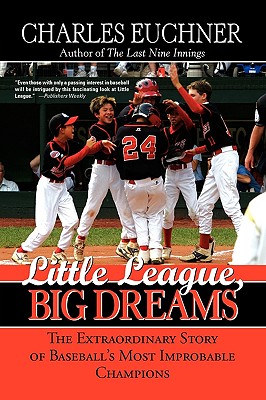 Little League, Big Dreams: The Hope, the Hype and the Glory of the Greatest World Series Ever Played (Paperback)
The Hope, the Hype and the Glory of the Greatest World Series Ever Played
Sourcebooks, 9781402210426, 304pp.
Publication Date: July 1, 2007
* Individual store prices may vary.
or
Not Currently Available for Direct Purchase
Description
It's just like the pros: bright lights, screaming fans, squawking commentators and five million people watching you play your heart out on national television for the right to be called champions. But these are not pampered multimillion-dollar athletes; they are 11- to 13-year-old kids. The 2005 World Series was the most dramatic in the 58-year history of the Little League. With full access to the players, coaches and parents associated with both teams who played in that game, Charles Euchner delivers an astonishing and dramatic narrative that delves into every aspect of the little league game. "Even those with only a passing interest in baseball will be intrigued by this fascinating look at Little League, 'the largest amateur sports organization in the world.'"
-Publishers Weekly "Readers can expect to learn a great deal about the history of Little League and the stories behind many teams. This well-written book will inform and entertain."
-Library Journal.
About the Author
Charles Euchner is the author and editor of seven books, a former college professor, city planner and journalist. His books include Playing the Field: Why Sports Teams Move and Cities Fight to Keep Them and The Umpire's Handbook. His most recent work, The Last Nine Innings, is an account of the 2001 World Series. He lives in New Haven, Connecticut.
Advertisement