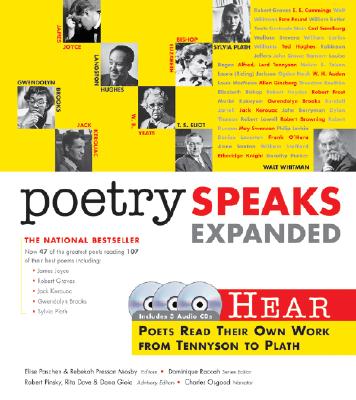 Poetry Speaks Expanded
Hear Poets Read Their Own Work from Tennyson to Plath (Poetry Speaks Experience)
Hardcover

* Individual store prices may vary.
Description
"By the time you're done, your biggest problem may be that you wish there was more."
- WALL STREET JOURNAL "The definitive anthology of poets reading their own work."
-- PUBLISHERS WEEKLY "This grand immersion in poetry follows the best-selling Poetry Speaks (2001) and includes a never-before-published and truly thrilling recording of James Joyce reading "Anna Livia Plurabelle" from Finnegans Wake. Book and CDs work beautifully together, kindling deeper appreciation for the transmuting power of poetry, a practice of discipline, skill, and magic."
- BOOKLIST ..".The prose comes to life when read aloud, especially when you hear James Joyce read it himself."
- NPR's ALL THINGS CONSIDERED host Jacki Lyden "This tome is a reminder how the human spirit is capable of finding an outlet in oppressive times, how poetry can help explain why we do what we do as a thinking people...Certainly, in our struggle to make sense out of what we do not understand, Poetry Speaks Expanded helps on so many levels." - Carol Hoenig, THE HUFFINGTON POST ..". A] bountiful experience: there is the thrill of discovery and re-discovery as with any good anthology, with an added emphasis on the poets' personalities and growth" - John Hammond, SAN ANTONIO EXPRESS-NEWS " An] accessible, beautifully executed collection guaranteed to offer poetry fans a memorable reading and listening experience" - WORDCANDY.NET ..". A]s I savored these beautiful poems, it reminded me of French poet Charles Baudelaire who wrote, 'Any man can go without food for two days - but not without poetry.'" - Norm Goldman, BOOKPLEASURES.COM "Light s] up a reader's eyes." - Frank Wilson, PHILADELPHIA INQUIRER Hear And Read All Of These Poets (And More)
244 Poems Included In The Book
107 Poems Read By The Poets Themselves On 3 Audio CDs Robert Graves, E. E. Cummings, Walt Whitman, Ezra Pound, William Butler Yeats, Gertrude Stein, Carl Sandburg, James Joyce, William Carlos Williams, Ted Hughes, Robinson Jeffers, Philip Larkin, Wallace Stevens, Louise Bogan, Melvin B. Tolson, Laura (Riding) Jackson, Ogden Nash, W. H. Auden, Louis MacNeice, Allen Ginsberg Theodore Roethke, Elizabeth Bishop, Robert Hayden, Robert Frost, Muriel Rukeyser, Gwendolyn Brooks, Randall Jarrell, Jack Kerouac, John Berryman, Dylan Thomas, Robert Lowell, Robert Browning, Robert Duncan, May Swenson, John Crowe Ransom Poetry Speaks Expanded is a fusion of the poet's words with the poet's voice, including text and recordings of nearly 50 of the greatest poets who ever lived, ranging from Walt Whitman, Robert Frost, James Joyce and T. S. Eliot to Langston Hughes, Jack Kerouac, Sylvia Plath, Ted Hughes and Gwendolyn Brooks. "This book has the potential to draw more readers to poetry than any collection in years."
-PUBLISHERS WEEKLY, STARRED REVIEW "Readers and listeners are guaranteed to hear poems in a new way after spending time with this book and CD set."
-LIBRARY JOURNAL, STARRED REVIEW "Superb, accessible....A unique and essential purchase"
-SCHOOL LIBRARY JOURNAL Poetry
--For the first time ever, James Joyce reads "Anna Livia Plurabelle" from Finnegans Wake alongside the original text from the book
--T. S. Eliot reading "The Love Song of J. Alfred Prufrock"
--Sylvia Plath's anger and raw emotion as she reads "Daddy" and "Lady Lazarus"
--Jack Kerouac reading from "MacDougal Street Blues," accompanied by Steve Allen on piano
--May Swenson rehearsing "The Watch" prior to a reading
--H. D. reading a part of "Helen in Egypt" from a rare recording made shortly before her death
--Ted Hughes reading "February 17" during a BBC interview
--A never-before-published recording of Alfred, Lord Tennyson reading "The Charge of the Light Brigade"
--W. B. Yeats explaining his reading style and why he chooses to read that way
--Robert Frost reading "The Road Not Taken" and "Stopping by Woods on a Snowy Evening" Essays Written By Today's Most Influential Poets, Including: W. S. Merwin on Robert Graves, Seamus Heaney on W. B. Yeats, Paul Muldoon on James Joyce, Robert Pinsky on William Carlos Williams, Sonia Sanchez on Gwendolyn Brooks, Galway Kinnell on Walt Whitman, Rita Dove on Melvin B. Tolson, Jorie Graham on Elizabeth Bishop and Al Young on Langston Hughes "The most ambitious, innovative poetry project to be published in years."
-QUALITY PAPERBACK BOOK CLUB A Book Sense Top-10 Selection.
Sourcebooks Mediafusion, 9781402210624, 384pp.
Publication Date: October 1, 2007
About the Author
Elise Paschen is the author of Houses: Coasts and Infidelities, winner of the Nicholas Roerich Poetry Prize, and the co-founder of "Poetry in Motion," a nationwide program that places poetry in subways and buses. She is also the editor of the New York Times bestselling Poetry Speaks to Children. Rebekah Presson Mosby was nominated for a Grammy for her work as producer / editor of the 4CD box set, Poetry on Record: 98 Poets Read Their Work (1888-2006) and also edited the groundbreaking Rhino Records poetry box sets, In Their Own Voices: A Century of Recorded Poetry and Our Souls Have Grown Deep Like the Rivers: Black Poets Read Their Work.
or
Not Currently Available for Direct Purchase