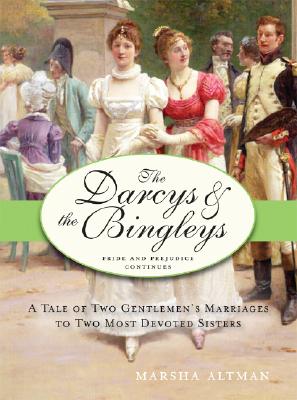 The Darcys & the Bingleys (Paperback)
Pride and Prejudice Continues
Sourcebooks Landmark, 9781402213489, 417pp.
Publication Date: September 1, 2008
* Individual store prices may vary.
Description
Three days before their double wedding, Charles Bingley is desperate to have a word with his dear friend Fitzwilliam Darcy, seeking advice of a most delicate nature.

Bingley is shocked when Darcy gives him a copy of the Kama Sutra, but it does tell him everything he needs to know ...

Eventually, of course, Jane finds this remarkable volume, and in the utmost secrecy shows it to her dear sister Elizabeth, who goes searching for a copy in the Pemberley library ...

By turns hilarious and sweet, The Darcys & the Bingleys also presents an intriguing view of Miss Caroline Bingley, who has such good reasons for being the way she is that the reader can't help but hold her in charity. Georgiana Darcy makes a most eligible match, and in spite of his abhorrence of being asked for advice, Darcy's friendship with Bingley is solid and full of fun.
About the Author
Marsha Altman is an historian, and is an expert on Jane Austen sequels, having read nearly every single one that's been written. She has worked in the publishing industry with a literary agency and is writing a series continuing the story of the Darcys and the Bingleys. She lives in New York.