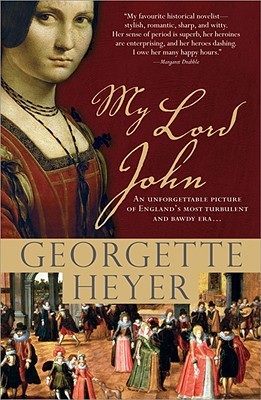 My Lord John (Paperback)
Sourcebooks Landmark, 9781402213533, 449pp.
Publication Date: May 1, 2009
Other Editions of This Title:
Hardcover, Large Print (7/1/2008)
Analog Audio Cassette (1/1/2001)
* Individual store prices may vary.
Description
There are heroes and villains but only one king...
John, Duke of Bedford, grew to manhood fighting for his father, King Henry IV of England, on the wild and lawless Northern Marches. He was a prince of the royal blood, loyal, strong, and the greatest ally that his brother?the future Henry V?was to have. Filled with the clash of bitter rivalries and deadly power struggles, this is Georgette Heyer's last and most ambitious novel, bringing to life a character and a period she found irresistibly attractive.
Bonus reading group guide available inside
PRAISE FOR GEORGETTE HEYER
"Wonderful characters, elegant, witty writing, perfect period detail, and rapturously romantic. Georgette Heyer achieves what the rest of us only aspire to."
New York Times Book Review
"The real charm of the story lies in the vivid portrayal of life in the Middle Ages, the dominance of the church and the character of John whose responsibilities seem heavy for his years. Childhood was short, apparently, in those long-ago times. And Miss Heyer's use of words and expressions is fascinating, a constant reminder of the period and how language changes."
Wichita Falls Times
"Miss Heyer was an outstanding storyteller."
Times Literary Supplement
"With incredibly extensive scholarship, Miss Heyer tells the drama of an entire era."
Columbus Dispatch
"Miss Heyer brings the spirit of the Middle Ages to life in every chapter."
Best Sellers
About the Author
The late Georgette Heyer was a very private woman. Her historical novels have charmed and delighted millions of readers for decades, though she rarely reached out to the public to discuss her works or private life. It is known that she was born in Wimbledon in August 1902, and her first novel, The Black Moth, was published in 1921. Heyer published 56 books over the next 53 years, until her death from lung cancer in 1974. Heyer's large volume of works included Regency romances, mysteries and historical fiction. Known also as the Queen of Regency romance, Heyer was legendary for her research, historical accuracy and her extraordinary plots and characterizations. Her last book, My Lord John, was published posthumously in 1975. She was married to George Ronald Rougier, a mining engineer, and they had one son together, Richard.
or
Not Currently Available for Direct Purchase