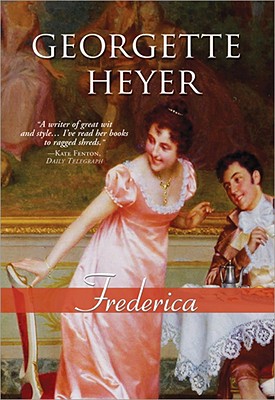 Frederica (Paperback)
Sourcebooks Casablanca, 9781402214769, 437pp.
Publication Date: January 1, 2009
Description
"Heyer was one of the great protagonists of the historical novel in the post-war golden age..." --Philippa Gregory
A reader favorite from the Queen of Regency Romance, Frederica is a charming story of a woman seeking security for her family, but finding love where and when she least expected it.
Determined to secure a brilliant marriage for her beautiful sister, Frederica seeks out their distant cousin the Marquis of Alverstoke. Lovely, competent, and refreshingly straightforward, Frederica makes such a strong impression that to his own amazement, the Marquis agrees to help launch them all into society.
Normally wary of his family, which includes two overbearing sisters and innumerable favor-seekers, Lord Alverstoke does his best to keep his distance. But with his enterprising -- and altogether entertaining --country cousins getting into one scrape after another right on his doorstep, before he knows it the Marquis finds himself dangerously embroiled.
What reviewers are saying about Frederica
"Humorous, light-hearted...a nice, comfortable way to get your Austen-fix."--Love Romance Passion
"This is a great book that explores both the relationships of the characters, and the Regency era itself. Fun, entertaining, enthralling "--Wendi's Book Corner
" A] fun, charming book... Frederica is a keeper, going on my bookshelf."--Lesa's Book Critiques
"There was a playful, light-hearted feel to this book that, along with the engaging characters, totally charmed me."--Genre Reviews
"The novel ends on a most satisfying note, and I can think of no better way of spending a chilly winter evening -- wrapped in a down comforter with my pooch sleeping by my side-- than reading this gem of a book."--Jane Austen's World
"Overflowing with fun and family, this warm, joyful 1965 Regency is one of Heyer's later novels and another popular title."--Library Journal
About the Author
The late Georgette Heyer was a very private woman. Her historical novels have charmed and delighted millions of readers for decades, though she rarely reached out to the public to discuss her works or private life. It is known that she was born in Wimbledon in August 1902, and her first novel, The Black Moth, was published in 1921. Heyer published 56 books over the next 53 years, until her death from lung cancer in 1974. Heyer's large volume of works included Regency romances, mysteries and historical fiction. Known also as the Queen of Regency romance, Heyer was legendary for her research, historical accuracy and her extraordinary plots and characterizations. Her last book, My Lord John, was published posthumously in 1975. She was married to George Ronald Rougier, a mining engineer, and they had one son together, Richard.
Advertisement