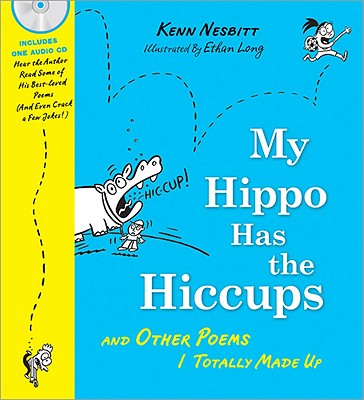 My Hippo Has the Hiccups
And Other Poems I Totally Made Up [With CD (Audio)]
Hardcover

* Individual store prices may vary.
Description
Kenn Nesbitt's hilarious poetry is adored by kids. They just can't get enough of the great beats, wonderful imagery, and good ol' belly laughs his poetry contains With over a hundred poems included, most of them new but some old favorites too, My Hippo Has the Hiccups is a laugh-out-loud good time. The audio CD features lots of the great poem readings and zany humor that make Kenn one of the most widely sought school speakers in the country.
From angry vegetables to misbehaving robots to the boy who is only half a werewolf, these are all officially poems Kenn totally made up:
my robot does my homework - i bought a pet banana - when vegetables are angry...
Be sure to visit Kenn online at the world's most popular poetry site for kids: poetry4kids.com
Sourcebooks, 9781402218095, 176pp.
Publication Date: April 1, 2009
About the Author
Kenn Nesbitt is the author of several collections of funny poetry for kids, including Revenge of the Lunch Ladies, When the Teacher Isn't Looking, and The Aliens Have Landed at Our School! His poems have appeared many bestselling anthologies, including every book in the popular Kids Pick the Funniest Poems series, and anthologies from Scholastic with nearly 2 million copies in print. His works have been in dozens of school textbooks around the world, as well as national television programs, and numerous children's magazines. Kenn travels the country, visiting over 60 schools each year, sharing his wacky brand of poetry with kids nationwide, and helping to create a new generation of poetry lovers. His website, Poetry4Kids, is the most popular children's poetry website on the Internet. Ethan Long is a children's book author and illustrator whose titles include the extremely popular Tickle the Duck: Don't You Dare and the hilarious sequel, Stop Kissing Me! He has also illustrated Manana Iguana, by Ann Whitford Paul, and the Riot Brothers series by Mary Amato. The pilot for his animated television series, Farm Force, won the Nextoons: 2005 Nicktoons Film Festival Viewer's Choice Award and is currently in development. His animated short series ZeFronk, a cooking show starring a wiener dog with amazing cooking skills, will premiere on Playhouse Disney in the fall of 2008.
or
Not Currently Available for Direct Purchase