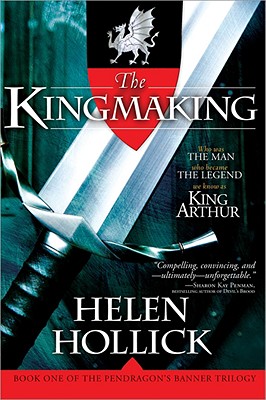 The Kingmaking (Paperback)
Book One of the Pendragon@s Banner Trilogy (Pendragon's Banner Trilogy; Bk. 1)
Sourcebooks Landmark, 9781402218880, 592pp.
Publication Date: March 1, 2009
* Individual store prices may vary.
Description
A novel of Arthur as he really was.

In the first book of this exciting trilogy, author Helen Hollick brings to life Arthur Pendragon as he really might have been. Leaving behind the fairy-tale element of Merlin's magic and the improbable existence of Lancelot, Hollick instead transports the reader to the early years of Britain circa 455 AD and tells the Arthurian legend in a solid and believable way.

For one, Arthur does not pull a sword from a stone using superhuman strength; rather, he is named heir to Britain (if he can win it from the tyrant Vortigern) while standing near a "hallowed stone, the symbol of a warrior's strength and the chieftain's right of leadership." Later, a sword won in battle signals his place as Britain's King.

This is a story of harsh battles, secret treasonous plots, and the life-threatening politics of the dark ages of early Britain. Intertwined through it all is the often-tested love of Arthur and Gwenhwyfar (Guinevere in Welsh--her name as it really would have been) as they struggle to survive and conquer to see Pendragon become King.

"If only all historical fiction could be this good." --Historical Novels Review
"Helen Hollick has it all. She tells a great story, gets her history right and writes consistently readable books." --Bernard Cornwell
"Hollick joggles a cast of characters and a bloody, tangled plot with great skill." --Publishers Weekly.
About the Author
Helen Hollick lives in London, England with her husband, daughter, and a variety of pets, which include several horses, cats, and two dogs. She has two major interests: Roman/Saxon Britain and the Golden Age of Piracy--the early eighteenth century. Her particular pleasure is researching the facts behind the small glimpses of history and bringing the characters behind those facts to full and glorious life. She has an Honours Diploma in Early Medieval History and is co-scriptwriter for the movie project 1066.