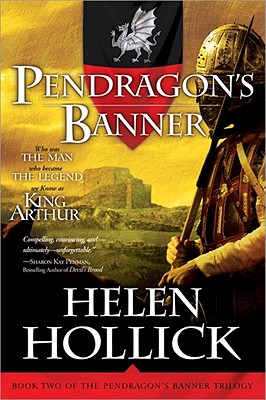 Pendragon's Banner (Paperback)
Book Two of the Pendragon's Banner Trilogy
Sourcebooks Landmark, 9781402218897, 496pp.
Publication Date: September 1, 2009
* Individual store prices may vary.
Description
Who was the man
... who became the legend
... we know as
KING ARTHUR?
Pendragon's Banner is the second book in Helen Hollick's exciting King Arthur trilogy, covering 459-465 A.D. This is not a fairy tale or fantasy. There is no Merlin, no sword in the stone, and no Lancelot. This is the most accurate Arthurian legend ever written, based on historical evidence and meticulous research.
At age twenty-four, King Arthur has the kingdom he fought so hard for and a new young family. But keeping the throne of Britain--and keeping his wife and three sons safe--proves far from easy. Two enemies in particular threaten everything that is dear to him: Winifred, Arthur's vindictive first wife, and Morgause, priestess of the Mother and malevolent Queen of the North. Both have royal ambitions of their own.
In this story of harsh battles, secret treasonous plots, and the life-threatening politics of early Britain's dark ages, author Helen Hollick boldly reintroduces King Arthur as you've never seen him before.
PRAISE FOR PENDRAGON'S BANNER:
"Hollick's interpretation is bold, affecting and well worth fighting to defend."
Publishers Weekly
"Weaves together fact, legend, and inspired imagination to create a world so real we can breathe the smoke of its fires and revel in the Romano- British lust for life, love and honour."
Historical Novel Review
"Camelot as it really was... a very talented writer."
Sharon Kay Penman, bestselling author of Devil's Brood
PRAISE FOR THE KINGMAKING:
"Hollick juggles a cast of characters and a bloody, tangled plot with great skill."
Publishers Weekly
"If only all historical fiction could be this good."
Historical Novels Review
"Stripped of its medieval trappings, the story of Arthur's rise loses none of its legendary power... this is a] well-researched, skillfully constructed trilogy opener."
Library Journal
About the Author
Helen Hollick lives in northeast London with her husband, daughter, and a variety of pets, which include several horses, cats, and two dogs. She has two major interests: Roman/Saxon Britain and the Golden Age of Piracy--the early eighteenth century.
or
Not Currently Available for Direct Purchase