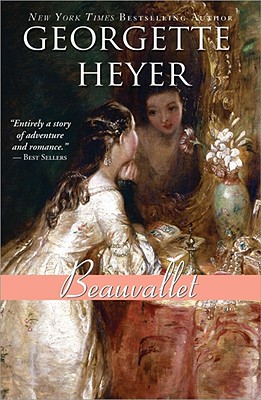 Beauvallet (Paperback)
Sourcebooks Casablanca, 9781402219511, 301pp.
Publication Date: January 1, 2010
Other Editions of This Title:
Compact Disc (4/21/2015)
Mass Market Paperback (3/1/2004)
MP3 CD (11/25/2014)
* Individual store prices may vary.
Description
"Cinematographic with escapes, kidnapping, galloping sword play, and a breathless elopement."
-THE TIMES LITERARY SUPPLEMENT
The most daring, dashing hero of all
"Mad Nicholas" to his friends, "Scourge of Spain" to his enemies, Sir Nicholas Beauvallet is one of Queen Elizabeth's most dashing buccaneers and has never been known to resist a challenge.
A Spanish lady all fire and heart
When Beauvallet captures the galleon carrying Dona Dominica de Rada y Sylvan and her father, he vows to return them safely to the shores of Spain. But he has no sooner done so than he proposes a venture more reckless than any of his exploits on the high seas-he will return to Spain, where there's a price on his head, and claim Dominica as his bride...
What readers say:
"An adventure story you can't put down. This is more exciting than any movie; your eyes will sparkle and your hands will grip the pages as you frantically try to keep up with the laughing pirate who leads you on the most daring trek through Spain."
"Swashbuckling romance. Great yarn set in Elizabethan times...you will not be disappointed, it's action-packed."
"A love story not to be missed Highly recommended "
"If you've ever secretly thrilled to swashbuckling films, you will LOVE Beauvallet If you enjoy the language of Shakespearean times, the color, the pagentry, you will LOVE Beauvallet If you love a great romance, you will LOVE Beauvallet "
About the Author
The late Georgette Heyer was a very private woman. Her historical novels have charmed and delighted millions of readers for decades, though she rarely reached out to the public to discuss her works or private life. It is known that she was born in Wimbledon in August 1902, and her first novel, The Black Moth, was published in 1921. Heyer published 56 books over the next 53 years, until her death from lung cancer in 1974. Heyer's large volume of works included Regency romances, mysteries and historical fiction. Known also as the Queen of Regency romance, Heyer was legendary for her research, historical accuracy and her extraordinary plots and characterizations. Her last book, My Lord John, was published posthumously in 1975. She was married to George Ronald Rougier, a mining engineer, and they had one son together, Richard.