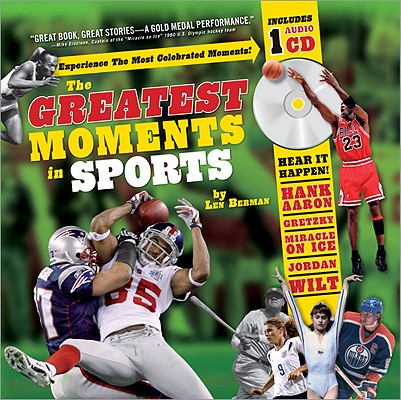 The Greatest Moments in Sports (Hardcover)
Sourcebooks, 9781402220999, 136pp.
Publication Date: November 1, 2009
Description
New York Times Bestseller
Experience all the action of the GREATEST MOMENTS IN SPORTS
If you had to pick the greatest thing in sports you'd ever seen, what would it be?
Was it a miraculous comeback?
An amazing catch?
A game-winning buzzerbeater?
Or something completely different?
The best thing about sports is that you never know when a great moment is going to happen. And everyone has a different opinion about what the greatest moments are. Sportscaster Len Berman reveals his favorite moments in sports and offers this challenge--what are yours?
Hear the cheers, create and share your own memories, and let the debate begin Plus, the included CD features many of the actual broadcasts--you'll hear all the drama and excitement as it happened
HEAR THE ACTUAL BROADCASTS OF:
DAVID TYREE'S Super Bowl helmet catch
WAYNE GRETZKY breaking the NHL scoring record
A RECEPTION SO GREAT they call it "immaculate"
MICHAEL JORDAN'S championship buzzer-beater
and SIX MORE GREAT MOMENTS on an EXCLUSIVE AUDIO CD.
PLUS DISCOVER THE INSIDE STORY BEHIND:
How a young Tiger Woods destroys the field to win his first major championship
Why one race-car driver is called "The King"
College basketball's biggest upset
When Babe Ruth tells a pitcher where he'll hit his home run--then does it
About the Author
Len Berman hosts the popular Spanning the World segments on NBC's Today show. He is a former sports anchor at WNBC New York/ He has won eight local Emmy Awards and has been voted New York Sportscaster of the Year six times. His daily Top 5 email is featured in The Huffington Post and is received by thousands around the country.
Advertisement