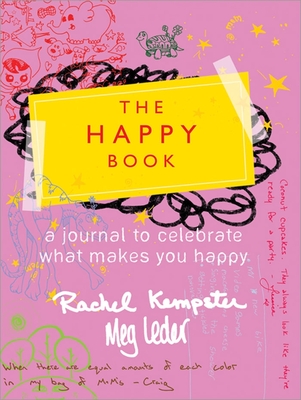 The Happy Book
Little Ways to Add Joy to Your Life
Paperback

* Individual store prices may vary.
Description
Whether you're feeling happy or crappy, The Happy Book is a cheerful self-care journal filled with little ways to add joy to your life.
Quirky journal prompts to make you smile
Positive affirmations and feel-good associations
Activities to get you out of your funk and try something new
Fun pages designed for you to document your journey
The Happy Book shows how to practice and celebrate happiness so you can find it when you really need it. Packed with creative prompts, wacky ideas, and hip activities, this is the ultimate pick-me-up! With plenty of space to doodle, draw, scribble thoughts, make lists, fill in the blanks, and paste pictures, this book is about creating joy you can express yourself in and look back on. Fully interactive and customizable for each reader, everyone's happy formula is unique. Whether you do them once or again and again in new ways, this inspirational journal has enough abundant joy for all—the perfect gift to share with friends and family.
Praise For The Happy Book: Little Ways to Add Joy to Your Life…
"It's fun and goofy and light-hearted. From drawing hand turkeys, to listing your favorite scents, to describing how you'd spend an unplugged day, it's all about simple joys that are unique to you. I couldn't help but smile the whole way through." — Perfectsentiment.blogspot.com
" I cannot wait to dig in." — Kotori
"Being a fan of happiness, I was thrilled to receive a copy of "The Happy Book" for review. It's filled with creative, thought-provoking exercises to make you happy! Basically, it's a scrapbook waiting to be filled with your own happiness." — Paper Schmaper
"This book allows you to look past that put that negativity behind you." — Jo My Goodness
"A journal to celebrate what makes me happy? Yes, please! The book is terrific, because it's basically a place where you can document what makes you happy-- lots of room to write things down, questions and prompts to spark your happiness and get you thinking in a positive and fun way, and to discover and celebrate the special things that make you happy!" — Pecannoot
Sourcebooks, 9781402226526, 208pp.
Publication Date: November 1, 2009
About the Author
Rachel Kempster is a marketing and PR director who started her publishing career as a bookseller at Book Revue in Huntington, NY.
Meg Leder is a published author and is a book editor. She has written for iVillage, Match.com, Writer's Digest, Children's Writer's and Illustrator's Market, and Cincinnati Magazine and has appeared on The Martha Stewart Show as a craft expert.