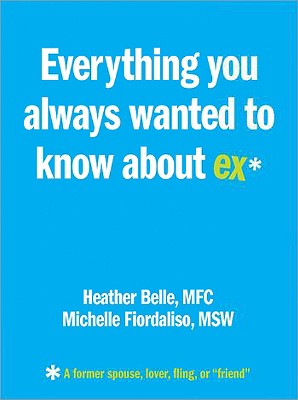 Everything You Always Wanted to Know about Ex* (Paperback)
Sourcebooks Casablanca, 9781402229237, 268pp.
Publication Date: September 1, 2009
* Individual store prices may vary.
or
Not Currently Available for Direct Purchase
Description
The sex education you never got: what to do when the sex is over--and you're left with an Ex
In 1969, David Reuben, MD, published his groundbreaking book Everything You Always Wanted to Know About Sex*. Forty years later, we know plenty about sex. The thing we're so confused about, however, is what to do when the sex is over, and you're left with an Ex.
In the age of Google, Facebook, and Twitter, it's almost impossible to leave the past behind. Everything You Always Wanted to Know About Ex* is the answer for any woman whose former relationship is keeping her from finding true love. Written by two family therapists, this book helps readers learn:
Who holds the power in your Ex relationships
The best way to deal with an unavoidable Ex
Solutions to everyday Ex issues (including kids)
How to handle your boyfriend's or husband's Exes
How to get resolution with any Ex
How to learn from your Exes so as to make a better choice the next time
This sassy, take-charge manual is a must-read for any woman who has an Ex.
Praise for Everything You Always Wanted to Know About Ex
* "No matter how codependent or crazy your relationship with your Ex has been, this book will show you how to live and love again."
Melody Beattie
] bestselling author,
The New Codependency
and
Codependent No More
"An insightful, entertaining and essential guide to surviving the turmoil and trauma of breakups and divorce. Read this book and you'll learn to survive
and
thrive in the aftermath of an unhappy relationship."
Ben Sherwood
] bestselling author,
The Survivor's Club
"If you have an Ex
and
kids, this book is a must read (unless you want your kids to spend their college savings on therapy) "
Romi Lassally
- author,
True Mom Confessions: Real Moms Get Real
] founder of truuconfessions.com "I thought I knew everything there was to know about my Ex. But I never would have guessed she'd be able to turn some of our most shameful follies into such valuable advice. Now our Ex life couldn't be better "
Michelle's Ex
"When I first became an Ex it was like a brick to the head or, perhaps in better moments, a knee to the groin. But this book adds the one metaphor I was missing--a breath of fresh air. Heather worked hard to become a 'good' Ex, where drama takes a backseat to what's important--our kids and our futures. This book can show everyone that the path from Ex to next can be filled with hope and happiness."
Heather's Ex
About the Author
Heather Belle, MFC, (Los Angeles) is a marriage and family therapist and writer with degrees from Vanderbilt and Pepperdine. In her work at the Southern California Counseling Center she has experienced firsthand the affects of past relationships on a person's mental health. Michelle Fiordaliso, MSW, (Los Angeles) is a psychotherapist and writer with degrees from New York University. She has fifteen years experience working with individuals and couples.
Advertisement